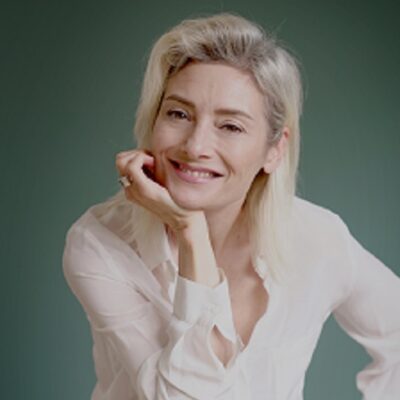 Meridian: Own Your Voice: Media Preparation & Public Speaking Skills for Writers with Maria Tecce
Info
Date: October 21, 2023
Time: 10.00am - 5.00pm
Duration: 1 Day
Level: Professional Development |
Cost: €96 (€86 Members)
Online/In Person: In Person
This course will take place on Saturday 21st of October, 2023 at the Irish Writers Centre. 
Course Summary
In this one-day workshop you will learn all of the skills and techniques you need to ace your media interviews, panel discussions, public speaking engagements and social media profiles. You will gain tools to own your authentic voice, take power and control over your words, and master your physical and vocal delivery.
Physical presence, breathing techniques, vocal delivery skills, and how to manage nervous energy will be demonstrated. At the end of the day you will take away an arsenal of public speaking weapons that you can pull out and use to prepare for all your communication situations, be it public speaking, media interviews, panel discussions, or public reading situations and get the results you require.
---
Course Outline
This one-day intensive workshop is for writers, speakers, presenters, and performers who present and speak publicly and want to upskill their presenting and communication toolbox.
You will learn skills & strategies that you can use to take back control of your voice and your confidence when you speak on virtual platforms, at readings, and at face to face events.
In this workshop you will learn:
How to use your breathing to combat nerves, anxiety, and fear of speaking up *How to change your panicked and fearful mindset to one of confidence and clarity *How to build up your toolbox of physical presence skills
Techniques to create an engaging, impactful vocal presence
Storytelling and why it's essential for great communication *How to engage with and connect to your audience virtually or live face to face *How to refocus your nervous energy into laser-clear, powerful authenticity and passion *How to use planning and preparation to smash your next panel discussion, live reading, social media live, or public speaking event
You'll walk away with a toolbox of skills that you can put into practice right away in your next virtual presentation, TV interview, pitch, speech, or in your next high-stakes meeting.
At the end of the day you will have an arsenal of skills to be the most courageous, powerful, clear, joyful speaker that you know is inside you so you can own your voice, own your story, and own the room.
---
Course Outcomes
You will take away toolboxes of skills in physical presence, vocal presence, and managing nervous energy that you can pull out and use to nail your next panel discussion, live reading, podcast, social media live, or public speaking event.
---
Maria Tecce is an award winning leader in public speaking & voice and speech coaching. After making her living as a professional actor, singer, and speaker for 20 years, Maria began coaching business professionals, writers, and performers over a decade ago in the same skills that professional speakers and performers use every day.
Writers, speakers, and C-Suite and Senior Executives work with her when they want to up their game and show up as powerful, confident, passionate, joyful speakers in their professional life and for the people around them. She has coached for Google, Diageo, Amazon, Ulster Bank, Bank Of Ireland, Ericsson, KPMG, Smurfit Business School, Johnson & Johnson, Salesforce, Trinity College, Virgin Media, Booking.com, Irish Writers Centre, The Lir Academy/RADA, Gaiety School of Acting, and Rose Bruford College. Maria is dedicated to helping speakers take ownership of their authentic voice, confidence, and joy as communicators.
Her mission statement: "There is a powerful, passionate speaker in everyone of us. Own your voice, own your story, own the room."
---