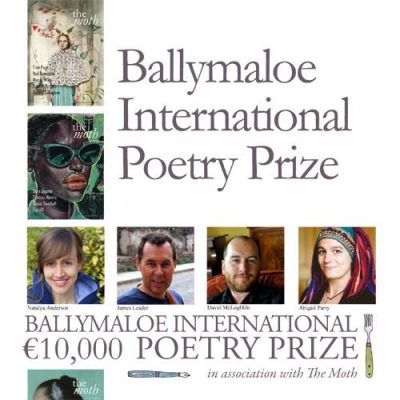 Ballymaloe International Poetry Prize Award Ceremony
Wednesday 13 April
7pm
The Moth invites you to join them for an evening of poetry and wine as they celebrate this year's Ballymaloe International Poetry Prize and the announcement of the winner of the overall €10,000 prize at 7pm at the Irish Writers Centre on Wednesday 13 April. 
This year's prize was judged by Billy Collins, dubbed 'the most popular poet in America' by the New York Times and a two-term US Poet Laureate. Collins admitted, 'The abundance of good poems made my work both more enjoyable and more vexing.'
The shortlist is made up of four poems  – by Natalya Anderson, James Leader, David McLoghlin and Abigail Parry. All four poems appear in the spring issue of The Moth.
RSVP via Eventbrite