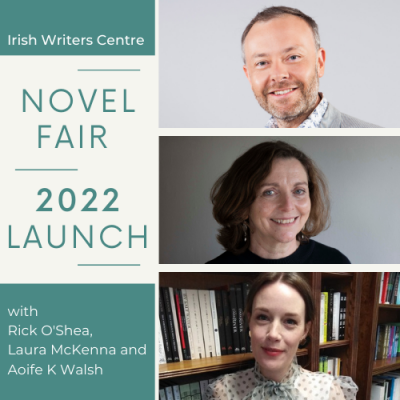 Launch of Novel Fair 2022
Info
Date:
April 15, 2021
Time:
7.00pm - 8.00pm
Or watch the launch live on our YouTube channel at 7pm on Thursday 15 April.
The Irish Writers Centre would like to invite you to the online launch of Novel Fair 2022 with Laura McKenna, Aoife K. Walsh and Rick O'Shea. During this panel discussion, chaired by IWC's Communications Officer Laura McCormack, you will be taken on a journey from self to shelf, from where the idea for a book begins, right through to the commissioning process and publication, and beyond.
Our 2022 Fair will mark 10 years of Novel Fair, an initiative which has resulted in a huge number of literary success stories. As one of the winners of Novel Fair 2020, Laura McKenna met with representatives of New Island Books on Novel Fair day and was subsequently signed by them. Aoife K. Walsh is New Island's Commissioning Editor who published Laura's debut novel Words to Shape My Name, which is gaining much critical acclaim. Rick O'Shea was one of the judges of Novel Fair 2021, the first ever online Fair, and he will speak about his experiences as a judge and how the future of Novel Fair will be shaped by the present situation.
An opportunity not to be missed, there have been countless success stories since the Novel Fair was established 10 years ago. This annual writing competition introduces up-and-coming writers to top  publishers and literary agents as a prize for being one of the 12 Novel Fair winners. Giving novelists the opportunity to bypass the slush pile,  they win the chance to pitch their ideas and send their synopsis and sample chapters directly to the inboxes of publishers and agents.
Since Novel Fair went online in 2021, there are few barriers to prevent writers worldwide from entering and getting the chance to pitch their novels for publication.
The launch will take place online on Thursday 15 April between 7 and 8pm.
---