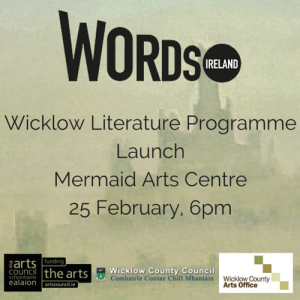 17 February, 2016
Launch of Wicklow Literature Programme with Words Ireland
Mermaid Arts Centre Thursday 25 February, 2016 at 6pm
Words Ireland is delighted to announce the development of a new literature programme in partnership with Wicklow County Arts Office and supported by the Wicklow Library Service.This programme will involve readings, public events, mentoring schemes, workshops and masterclasses with some of Ireland's leading writers, poets and illustrators. 
It will be launched at Mermaid Arts Centre, Bray on Thursday 25 February at 6pm with guest speakers Michael Nicholson and John Ryan, both of Wicklow County Council (scroll down for full invite details). 
Wicklow is home to a wealth of writing talent and this programme will seek to celebrate those who are established, while nurturing the next generation. Wicklow enjoys an extremely rich literary heritage and has inspired celebrated writers such as WB Yeats, Derek Walcott, Mary Lavin and Seamus Heaney, to mention just some. In more recent times, contemporary writers Sebastian Barry, Anne Enright and Paul Howard have found much inspiration in the county. 
Thursday 25 February is Wicklow Literature Day when the new programme kicks off with a range of activities: a workshop with local award winning illustrator Marie-Louise Fitzpatrick at Greystones Library in the morning (now sold out), followed by a panel event based around the best-selling children's book Once Upon a Place, early evening in the Happy Pear, Greystones, and a mentoring showcase featuring local writers at the Mermaid Arts Centre, which will be preceded by a launch at 6pm.
The writers include: Caroline Bracken, Evelyn Conlon, Emer Fallon, Justin McCarthy, Sinéad O'Loughlin, Michelle Read, Philip St. John and Grace Wells.
Wicklow writers and book lovers are encouraged to attend.
Later in the year the programme will feature a writers' mentoring scheme, a special reading project for children in libraries and a number of live literature events. Highlights will include a masterclass with Ireland Professor of Poetry Paula Meehan at Bray Library, a reading with short story writer Claire Keegan at the Courthouse Arts Centre, Tinahely and a series of workshop and in-conversation events with Wicklow writers including Jane Clarke and Liz McManus in libraries throughout the county.
Director of Services with Wicklow Council Council, Michael Nicholson commented:
'The County Wicklow Literary Development Programme 2016/17 led by Wicklow Arts Office in Partnership with Words Ireland and with support from Wicklow County Library Service – is a significant arts development initiative for the county. It will offer people of all ages, throughout the county, a wide range of options to develop their skills in the craft of writing and to discover the pleasure of reading through an excellent programme of readings, workshops and masterclasses.'
The richness and diversity of literature in Wicklow will be celebrated throughout the county and for all ages. Writers and readers are encouraged to check out their local libraries where they can sign up to be included on the county database and to share their ideas for the programme. The aim of the programme is to provide effective resources for the literature sector and to encourage a passion for writing and reading throughout the county.
Words Ireland is a recently formed grouping of seven literature organisations, which is working collaboratively to provide coordinated professional development and resource services to the literature sector. This three-year partnership with Wicklow County Council will allow us to organise workshops, readings and events across Wicklow for writers, readers, literature professionals and literature enthusiasts.
For more information on Words Ireland see www.wordsireland.ie and for more information on Wicklow County Arts Office please visit www.wicklow.ie/arts-office
Further information from: media@poetryireland.ie  Tel (01) 678 9815