Novel Fair
2023 marks 11 years of Novel Fair. Described by The Irish Times as a 'Dragon's Den for writers', the Novel Fair is an Irish Writers Centre initiative which aims to introduce up-and-coming writers to top publishers and literary agents.
Novel Fair
Now in its 12th year, the Novel Fair is an annual competition initiated by the Irish Writers Centre. Described by The Irish Times as 'A Dragons' Den for writers', each year the Fair introduces twelve up-and-coming writers to top publishers and literary agents, giving novelists the opportunity to bypass the slush pile, pitch their ideas and place their synopsis and sample chapters directly into the hands of industry professionals.
Novel Fair has been attended by representatives from: Curtis Brown, Penguin Random House, Conville & Walsh, époque, Fletcher & Co, Poolbeg Press, Harper Collins, John Murray, Hachette, Lilliput Press, New Island Books, The Book Bureau, The Bent Agency, Greene & Heaton, Storyline Literary Agency and many others.
At the IWC Novel Fair, successful applicants will engage in a speed-dating-style event where each writer is given the opportunity to pitch their novel to publishers and agents. Submissions will open on Friday 1st September 2023 and will close on Saturday 30th September 2023. Applicants will be required to submit a 10,000 word novel manuscript sample. Winners will be asked for an additional 50,000 words in December 2023. We ask to see a further 50,000+ word manuscript as the winners are required to have a finished novel by the Novel Fair event in February 2024. Please note, the 50,000 + manuscript is kept confidential and is only used as proof of a finished novel. Before you submit your work, you should familiarise yourself with the Terms and Conditions below. Make sure you meet all the conditions before submitting your manuscript.
Selecting the 12 Winners
Every submitted manuscript will be anonymously read by a judging panel. Twelve shortlisted entrants will be selected to take part in the Irish Writers Centre Novel Fair on Friday 16 and Saturday 17 February 2024. The judging panel for last year's Novel Fair winners were writers Alan McMonagle, Conor Kostick and Mary Watson.
The Prize
Each writer will have the chance to present the synopsis of their novel, the finished novel itself and biographical material. Leading publishers and agents will be invited by the Irish Writers Centre to meet these writers in person or through a series of online meetings. To fully prepare them for the day, the winners also receive a place on a seminar on 'How to Pitch Your Novel', two weeks in advance of the Fair. Applicants who are longlisted and who do not proceed to make the shortlist of twelve will have their work evaluated and critiqued by the judging panel.
Novel Fair 2024 Timeline
1st – 30th September 2023 – Submit your 10,000 word manuscript sample.
1st December 2023 – The 12 shortlisted winners will be notified.
8th December 2023 – Deadline for the 12 shortlisted winners to submit their 50,000 word manuscript (inclusive of original 10,000 word sample).
3rd February 2024 – The 12 shortlisted winners attend a 'How To Pitch your Novels' seminar at The Irish Writers Centre with Betty Stenson, IWC Programming Officer and special guests: Novel Fair 2024 Judges and a previous Novel Fair winner.
16 – 17 February 2024 – The 12 shortlisted winners pitch their novels to publishers and literary agents at The Irish Writers Centre Novel Fair 2024 .
Application Process
How can I enter Novel Fair 2024?
The submission period runs from 

1st – 30th September 2023

. (The deadline has now passed for Novel Fair 2024).

Entry fee for applications is 

€55

. (Members of the Irish Writers Centre can enter for a discounted fee of

€45

)

The 20 free submission places for writers from backgrounds underrepresented in Irish literature have now been allocated.

This competition only accepts manuscripts for novels. Memoirs, short stories and works of non-fiction will not be considered.

There is no limitation on genre, or target market, for the novel. The only requirement being that the writer has not published a novel before i.e. has not previously published a novel with an ISBN (see Terms & Conditions for more detailed information).

Applicants are required to send a synopsis of max. 300 words and up to five chapters of their novel, which should be 10,000 words (+/-

10%).

You will be asked to submit your manuscript online.

There is a limit of one entry per applicant.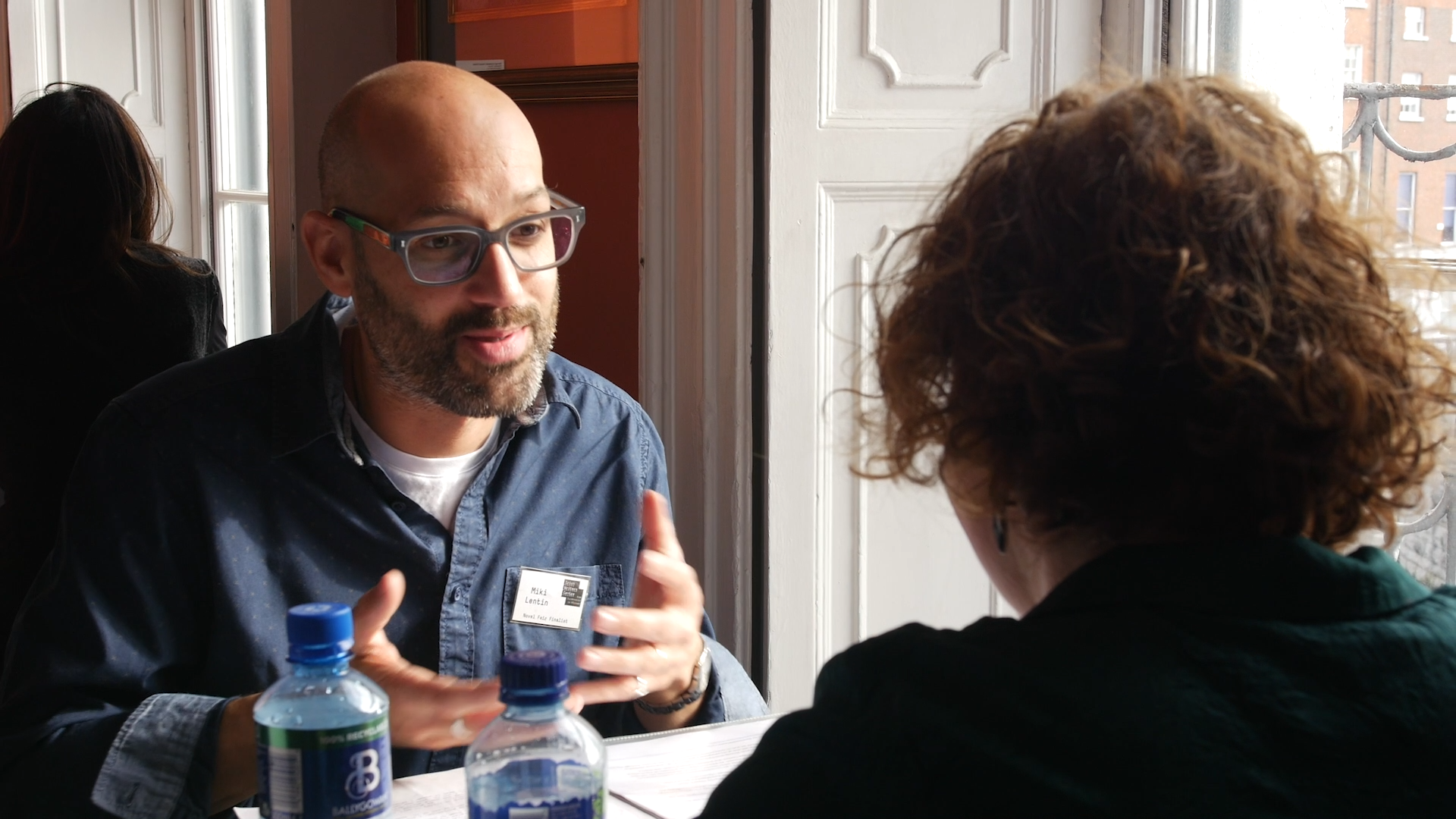 Novel Fair Terms & Conditions 2024
Entries are welcome from anywhere in the world, however, in order to be eligible, applicants must be available to attend the Fair on the 16 and 17 February 2024, either remotely or in person.
Before entering the competition, please ensure that you have read the Novel Fair Terms & Conditions 2024 very carefully as the Fair is open to previously unpublished aspiring novelists only.
Please see a PDF list of FAQs.
If you have any questions about the application process, please email novelfair@irishwriterscentre.ie
Success Stories
This competition has been a life changing opportunity for writers across the island of Ireland and worldwide, with Novel Fair winners going on to win or be nominated for the Rooney Prize, Costa First Novel Award, Irish Book Awards, Carnegie Award, Kate O'Brien Award, Great Reads Ireland Award, The Kerry Group Irish Novel of the Year Award, Arthur C. Clarke Award, The Yoto Carnegie medal, Christopher Ewart-Biggs Memorial Prize for Literature, Comedy Women in Print Award, and many others. Since its inception in 2011, 33 Novel Fair winners have gone on to publish their debut novels as a result of Novel Fair.
There have been a huge number of success stories since the Novel Fair has been established, including:
Published
Niamh Boyce, The Herbalist (Penguin Ireland, 2013)
Janet E Cameron, Cinnamon Toast at the End of the World (Hachette, 2013)
Kevin Curran, Beatsploitation (Liberties Press, 2013)
Alan Timmons, Here in No Place (New Island, 2013)
Susan Lannigan, White Feathers, (O'Brien Press, 2014)
Daniel Seery, A Model Partner (Liberties Press, 2014)
Andrea Carter, Death at Whitewater Church (Constable, 2015)
Catriona Lally, Eggshells (Liberties Press, 2015)
Faith Hogan, My Husband's Wives (Aria, 2016)
Orla McAlinden, The Accidental Wife (Sowilo Press, 2016)
Rachel Kelly, The Edge of Heaven (NewCon Press, 2017)
RM Clarke, The Glass Door (Dalzell Press, 2018)
Breda Joy, Eat the Moon (Poolbeg Press, 2018)
Marion Reynolds, A Soldiers Wife, (Poolbeg Press, 2018)
Kealan Ryan, The Middle Place (Mercier Press, 2019)
David Brennan, Upperdown (époque press, 2019)
Michelle Gallen, Big Girl, Small Town (Algonquin, 2020)
Eoin Lane, Beyond the Horizon (Blackstone Publishing, 2020)
Marianne Lee, A Quiet Tide (New Island, 2020)
Alice Lyons, Oona (Lilliput, 2020)
Gráinne Murphy, Where the Edge Is (Legend Press, 2020)
Sue Divin, Guard Your Name (Macmillan, 2021)
Fidelma Kelly, Sweet Lemons (Poolbeg Press, 2021)
Laura McKenna, Words to Shape My Name (New Island, 2021)
Neil Sharpson, When the Sparrow Falls (Macmillan, 2021)
Olivia Fitzsimons, The Quiet Whispers Never Stop (John Murray Press, 2022)
Aingeala Flannery, The Amusements (Sandycove, 2022)
Bryan Moriarty, Sounds Like Fun (Hodder, 2023)
Declan Toohey, Perpetual Comedown (New Island, 2023)
Lauren Mackenzie, The Couples (Hachette, 2023)
Soon to be published
Alison Langley, Ilona Gets a Phone (Dedalus) November 2023
Orla Mackey, Mouthing (Hamish Hamilton) Spring 2024
Hesse Phillips, Lightborne (Atlantic Books) 2024
"It's changed my life and catapulted me into the literary world in a way that would have taken some time on my own. That's if I would've broken in at all."
Lauren Mackenzie
"The Novel Fair really did change my life. I had a novel I'd been working on in various forms for twenty years, which I was all but ready to give up on. Just weeks after the Fair, Brian Langan contacted me with an offer of representation. My novel was picked up by Atlantic Books several months later, and I'll soon be able to call myself a 2024 debut author. Because of Novel Fair, I'm getting to live out a dream that had seemed practically impossible just hours before signing on to my first agent/editor meeting. But as a writer, I'm also more confident and informed because of the Novel Fair experience. I feel immensely fortunate to have been a part of it."
Hesse Phillips
"The Novel Fair final is an incredible, intense, experience. It's an opportunity of a lifetime as an emerging writer to pitch directly to so many agents and publishers. The months afterwards are an emotional rollercoaster. Be prepared for 'Your work is great but…' On the other hand, when you get an email that says 'Yes! Can I represent you?' it's pure gold. I was thrilled to pick up representation from Laura Williams in the Greene & Heaton Agency. That then led to a two book YA deal with Macmillan. My début, Guard Your Heart, was Carnegie shortlisted, is being taught in schools in Switzerland and Germany and is beginning to be translated. Truth Be Told shortlisted in the UK Literacy Awards, the Irish Book Awards and the KPMG Children's Book Awards Ireland. What I love most is hearing feedback from readers – some who feel 'represented' in literature for the first time and others who are understanding N.Ireland and peace building through empathy. None of this would have been possible without that breakthrough from the Novel Fair."
Sue Divin
"Taking part in the Novel Fair was a privilege and a treat: not only an opportunity to find a home for my novel, but also an invigorating two days among like-minded people for whom novels are everything. I take heart in knowing that, in the near and distant future, other novels will be published thanks to this wonderful initiative."
Declan Toohey
"The Novel Fair was the first time I called myself a writer. Even though the novel I entered was never published, the fact that it was good enough to pitch to publishers gave me the confidence to share my work. People were interested and curious about my writing after the Novel Fair. It definitely opened doors that I would've been too self-conscious to knock on before."
Aingeala Flannery
The 2019 group of Novel Fair winners were an exceptional bunch and lots went on to sign with publishers and agents shortly after the Fair. Even though I didn't sign with anyone immediately, it was really heartening to see the good news stories coming in by email in the weeks and months after the Fair – it kept hope firmly alive. At the same time as the Fair, I was shortlisted for two UK novel competitions (Caledonia Novel Award and BPA First Novel Award) and the three together sparked interest from Legend Press. Having been at the Fair, I had more confidence in my work and when Legend asked to see one manuscript, I sent them two, and explained why they should also read the second. I signed a two-book deal with them in autumn 2019, and also signed with an agent a couple of months later. When I had the offer, the first person I contacted was Marianne Lee, another 2019 Novel Fair winner, who had signed with New Island directly, to ask for her advice. That remains my takeaway from the Novel Fair experience – it's all about the people, on both sides of the table, and everyone is there because they love books, hopefully yours included!
Gráinne Murphy
Novel Fair will forever stand out as one of the highlights of my life. It's only since Novel Fair that I've dared to call myself a writer. And even now, that word sticks in my throat a little.
Orla Mackey
View Next
One-to-One Mentoring
The Irish Writers Centre has developed a panel of Professional Members who are published and experienced authors or industry professionals acting as mentors to help you make your writing as good as it can be.
View Page