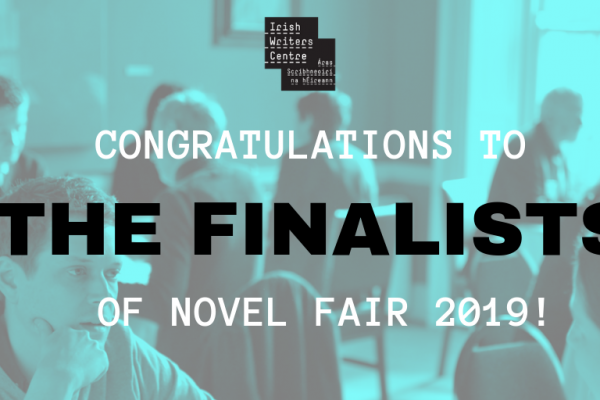 30 January, 2019
Announcing the Novel Fair 2019 Finalists
Announcing the Novel Fair 2019 finalists –
as selected by judges Catherine Dunne, Anthony Glavin and Anna Carey.
Twelve aspiring novelists have been selected from over 200 applicants to take part in Novel Fair 2019. This is an annual initiative of the Irish Writers Centre where the twelve successful applicants are offered the rare and unique opportunity to come face-to-face with some of the most influential names in publishing from Ireland and the UK. This platform acts as a springboard for the literary career of this year's winners.
Congratulations to:
Neil Sharpson
Sue Divin
Alice Lyons
Jim Lawlor
Dee Collins
Marianne Lee
Catherine Browne
James A. Simpson
Gráinne Murphy
Ronnie Trouton
Michelle Gallen
Jennifer Wilson O'Raghallaigh 
It was a difficult task for this year's judges, who can now be revealed as award-winning writer Catherine Dunne, writer and editor Anthony Glavin and journalist and author Anna Carey. They have spent the last few months poring over more than 200 synopses and opening chapters, trimming it down to only twelve finalists.
"It became clear early on that the authenticity of the writer's voice was what enthralled us most as judges," says judge, Catherine Dunne. "We allowed ourselves to be beguiled by thrillers, literary fiction, fantasies, speculative fiction, and young adult fiction – so much so, that categories became almost meaningless. And there was variety aplenty: with richly-imagined universes, credible story lines, and very good writing. We believe that our list of winners will appeal to readers, to agents and to publishers alike. Congratulations to all concerned."
As always, the 2019 finalists are skilled in many writing forms with a poet, a playwright, a musician and a creative copywriter in the mix from around the island of Ireland.
The publishers and agents in attendance of Novel Fair 2019 include The Book Bureau, Blake Friedmann Agency, Epoque Press, The Feldstein Agency, Greene & Heaton, Harper Collins Ireland, John Murray, Lilliput Press, Lisa Richards Agency, Marianne Gunn O'Connor Literary Agency, Mulcahy Associates, New Island Books, Penguin Ireland, Susanna Lea Associates and Transworld/Doubleday Ireland.
This is the fifth year where a longlist of twelve applicants will have their works critiqued, extending the prize from 12 to 24 winners. The following names will receive individual critiques:
Brendan Lyon 
Eamon Somers 
Timothy Stapleton 
Hilary Fennell 
Lani O'Hanlon 
Cassy Cochrane 
Eileen Gibbons 
Val Nolan 
Angela Keogh 
Phillip McGuinness 
Alison Wells 
Eva McGuire 
We would like to congratulate all 24 winners and thank each and every applicant. Best of luck to all aspiring novelists in continuing their writing and we hope to see your names again.