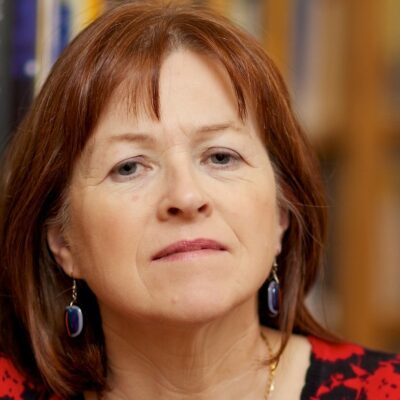 Focal ar Fhocal: gearrchúrsa ar líne faoi stiúir Anna Heussaff
Info
Date: April 19, 2023
Time: 6.30 pm - 8.30 pm
Duration: 2 weeks
Level: Beginner | Emerging |
Cost: €60/€54
Achoimre/Course Summary
Is cuid riachtanach den scríobh an t-athscríobh. Díreoidh an cúrsa ceithre uaire an chloig seo, in dhá
sheisiún, ar na scileanna is gá don athscríobh leanúnach a chaithfidh gach scríbhneoir a fhorbairt mar
bhunscil. Cothófar atmaisféar spreagúil, tacúil a chabhróidh le gach duine dréachtaí agus tuairimí a
roinnt lena chéile. Fáilteofar roimh scríbhneoirí ficsin agus neamhfhicsin araon ar an gcúrsa.
This is a two session online course for beginner and emerging prose writers in Irish, focused on the
essential skills of re-reading and rewriting from one draft to another, to bring characters,
relationshiops and places to life, to heighten moods and vary the pace, to edit, sharpen and improve
each draft. The course will take place through Irish, and in a supportive, engaging atmosphere.
---
Imlíne an chúrsa/Course Outline:
Sa chéad seisiún ar líne, déanfaimid dreas gearr scríbhneoireachta; pléifimid gnéithe ar fiú iad a
athscríobh agus cad atá le foghlaim uathu; agus roinnfidh Anna Heussaff samplaí den aischothú a
fuair sí ar dhréacht-úrscéal dá cuid. Tráchtfaimid ar charachtarú, cruthú atmaisféir, éagsúlacht luais,
úsáid altanna, saibhriú ar stór focal agus gnéithe eile den scríobh.
Roimh an dara seisiún, iarrfar ar gach duine a bpíosa nua a athscríobh; agus fáilteoidh Anna freisin
roimh shleachta de shaothar eile ó na rannpháirtithe, le haischothú a thabhairt dóibh.
Sa dara seisiún, pléifear an t-athscríobh a rinneadh ón gcéad seisiún; déanfaimid comparáid idir dhá
dhréacht-shliocht ó shaothar Anna; agus athscríobhfaidh gach duine sliocht ó dhuine eile, ina rogha
stíl. Dáilfear sleachta ó údair aitheanta mar léiriú ar ghnéithe den scothscríobh.
---
Torthaí an chúrsa/Course Outcomes:
Tá sé mar aidhm ag an gcúrsa méadú ar thuiscint agus ar mhuinín na rannpháirtithe as an athléamh
agus as an athscríobh – focal ar fhocal – a dhéanann siad ar a saothar; agus léargas a fháil ar an
tairbhe a bhaineann le haischothú tacúil, criticiúil a lorg ó dhréachtléitheoirí.
---
Nóta beathaisnéise/ Biography:
Tá an-rath ar úrscéalta Anna Heussaff agus duaiseanna go leor bronnta orthu. I mbliana foilseofar
Sceon Anama, an ceathrú ceann dá húrscéalta bleachtaireachta do léitheoirí líofa; tá a húrscéalta
mistéire do dhéagóirí óga, Sárú agus Hóng, ar liostaí molta na Sraithe Sóisearaí; agus is úrscéal grá
d'fhoghlaimeoirí fásta é Cúpla Focal.
Anna Heussaff's crime novels for fluent adults, her mystery novels for young teens and her quirky
novella on love in a conversation class have won her a wide readership in Irish as well as many
awards, including CBI's 2013 Special Judges' Award. She has also translated novels and reference
books for young readers. She spent many years in RTÉ as a radio and tv researcher and producer.
---