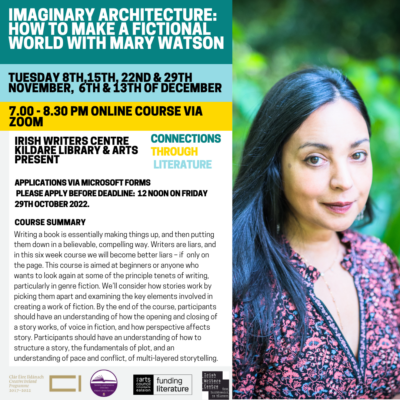 Imaginary Architecture: How to Make a Fictional World with Mary Watson
Info
Date: November 8, 2022
Time: 7-8pm
Level: Beginner |
Cost: Free
Course Outline
Introducing the final workshop in our 2022 Connections Through Literature Series in conjunction with Kildare Libraries, Imaginary Architecture: How to Make a Fictional World with Mary Watson.
Writing a book is essentially making things up, and then putting them down in a believable, compelling way. Writers are liars, and in this six-week course we will become better liars – if only on the page. This course is aimed at beginners or anyone who wants to look again at some of the principal tenets of writing, particularly in genre fiction. We'll consider how stories work by picking them apart and examining the key elements required to make your story come alive.
---
Apply for a Free Place
This course is suitable for people working in fiction genres and will be delivered online via Zoom  for 6 weeks on Tuesday the
 Tuesday 8th,15th, 22nd & 29th November, Tuesday 6th & 13th of December from
7.00 pm – 8.30 pm. 
 . This workshop is free of charge, but places are limited. Please apply using this form 
https://forms.office.com/r/kn3HVTehfG
 Applications close 12 noon on Friday 29th October 2022. Applicants will be notified of decisions by Wednesday 2nd November.
---