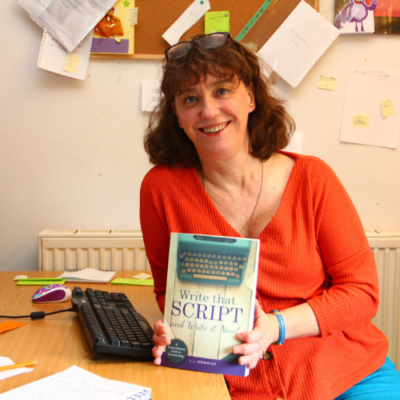 Playing Devil's Advocate: An Introduction to Screenwriting for Film & TV with Lindsay J Sedgwick
Info
Date: January 13, 2022
Time: 2.00 pm - 4.00 pm
Duration: 8 weeks
Level: Emerging |
Cost: €240 (€220 Members)
Course Summary
Screenwriting is the tightest, trickiest medium, but also one of the most satisfying and exciting forms of writing. This course will look at what an idea needs to work for the screen, how to develop characters that will pull us in and keep us in the world you've created, and how to structure a script from the individual scene through to the finished script, how to tell a story visually so it leaps off the page, and all the elements in between.
Suitable for anyone with a wicked and visual imagination who loves creating characters and putting them in jeopardy.
---
Course Outline
Ever thought you had a script in you? An idea you know might make a fantastic screenplay? Screenwriting is a tight and demanding medium but it is also one of the most exciting forms in which to write. Playing Devil's Advocate! breaks the craft of writing a script into accessible, realisable pieces. Week by week, you will build up the core knowledge you need to tackle a screenplay or hone an idea you've already tried in screenplay form and for every piece of theory, there will be a writing exercise you can take away to put it into practice.
Week by week the course will look at:
Your Idea: What You Need For a Screenplay
Creating Character: Beyond Cliché…
Into The Depths: Plotting the Story
Structure: The Three-Act Formula and beyond
Powerful Writing: The Individual Scene
Dialogue and Character
Creating Vivid Description
Writing comedy
Script Format
Who is Your Audience?
Getting The Pages Down: Productivity Tips
The Art of Rewriting …..
---
Course Outcomes
By the end each participant should have the confidence to start writing their own script and visual storytelling skills to bring into other mediums.
---
An award-winning screenwriter, Lindsay J Sedgwick has written across genre in live action and animation, for children and adults, for film and TV, and also for games and apps. Credits include creating the series Punky (2011, 2014) now available in 100+ countries. Graduate of Moonstone Screenwriting Labs (2002) and an NYU 'Gregory Peck Scriptwriting Course' scholar, (1993), she has an MA in Screenwriting from Leeds Beckett University (1999 and wrote Ireland's first comprehensive guide to screenwriting, Write That Script in 2018. Www.lindsayjsedgwick.com
Photo credit: Darren Kinsella
---
Thank you … for all of help during the class, it got [me] motivated to write a full script.
Grainne Coyne
Thank you very much for the lovely and pleasant Course you have delivered. During my life time, I had attended several  professional Courses on Media and on other fields. However , I must say this one with you was amongst the best I ever enjoyed.
Ignazio de Maria
Thank you for everything Lindsay, in fact I got a hell of a lot from the experience. I look forward to putting some of it into practice as I progress with this screen idea. ... Additionally, you got me to start thinking visually, which is a complete departure from the way I have conditioned my writing brain to work. A very interesting and new way of looking at the world, and at the written word. It was great fun, and it's been a long time since I've engaged with an educational experience as enjoyable.
JM Burr
Loving your course. Really demystifying it all.
V Breheny
...My head is buzzing with ideas now after the class! Haven't felt this positive about something for ages, long time coming so thank you!
Julie Brown