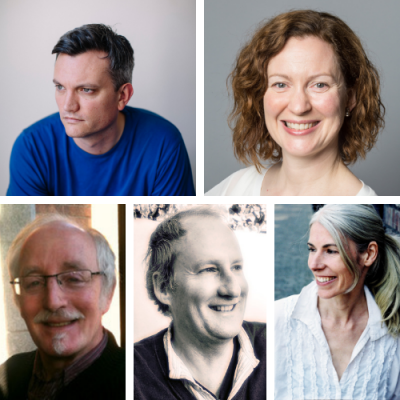 Proposition: Should we fear the Algorithm? Exploring Artificial Intelligence
Date: Wednesday 1 May 2019
Time: 7 – 9pm
Location: Irish Writers Centre, Dublin.
Tickets: €10 (€8 Members / Concession)
'AI is likely to be either the best or worst thing to happen to humanity.' 
Stephen Hawking
Along with private enterprise, world governments are spending billions on AI (Artificial Intelligence). AI is so widespread in its use and applications that not one person on this planet is excluded from its reach. Are we sleepwalking into a future and a set of situations that will become too advanced to change or to call a halt? Should we be concerned?  Or at the very least, should we not be discussing the topic more than we are at present in order to embrace the onset of AI?
Join us in discussion with technology evangelist Clare Dillon and author of To Be a Machine Mark O'Connell with contributions from writer and editor Mia Gallagher and Dr. Vincent Kenny PhD.​ The evening will be chaired by novelist, playwright and member of WORD Dermot Davis.
This event is open to the public and there will be a Q&A at the end.
About Clare Dillon
With over 20 years' experience in the IT industry, Clare helps organisations maximise the opportunities presented by the latest trends in technology, from AI to Virtual Reality. Passionate about how technology is changing and shaping the world we live and work in, she regularly speaks on topics related to artificial intelligence, and ethics in AI.
Before starting her own business, Clare was a key member of the Microsoft Ireland Leadership Team for 8 years , heading up the Developer Experience and Evangelism team. Throughout her career, Clare has also been very involved with the Startup and Innovation scene in Ireland. She has served as a director on the boards of the National Digital Research Centre, the Irish Internet Association and on the Industry Guidance Boards of the Irish Centre for Cloud Computing and Commerce and Technology Ireland Innovation Forum.
About Mark O'Connell
Mark O'Connell is a writer who lives in Dublin. His book To Be a Machine was shortlisted for the Baillie Gifford Prize and the Royal Society Science Book Prize, and was the recipient of the 2018 Wellcome Book Prize. He is a contributor to The New York Times Magazine, and the Guardian.
Proposition is an Irish Writers Centre initiative supported by the Arts Council of Ireland.