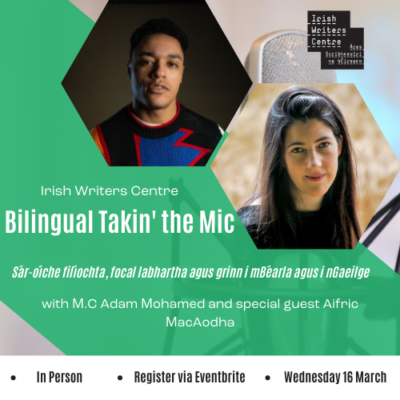 Bilingual Takin' the Mic with Adam Mohamed and Aifric Mac Aodha


---
We're delighted to open our doors for our first bilingual Takin' the Mic of 2022. MC Adam Mohamed is joined by special guest Aifric Mac Aodha for a fantastic evening of poetry and prose in English and Irish with an open mic with writers, poets and musicians. All welcome.
Tá Takin' the Mic ar ais go Áras Scríbhneoirí na hÉireann le hghaidh sár-oíche filíochta, focal labhartha agus grinn i mBéarla agus i nGaeilge. In éineacht le fear an tí Adam Mohamed, beidh an file Aifric MacAodha ann mar aoi speisialta chomh maith le 'mic-oscailte' le haghaidh scríbhneoirí, filí agus ceoltóirí. Fáilte roimh chách!
Register to perform and attend via Eventbrite.
Adam Mohamed is a Sudanese-Irish spoken word poet, actor, rapper, and singer. He runs workshops on creativity, identity and writing in schools, and youth clubs. He explores the universal struggles, fears, triumphs, and contradictions that we all face, but from the viewpoint of a mixed race and mixed religion man residing in one of the most infamous working class areas in Ireland. With work that is innovative and thought provoking to listeners of all walks of life, as a creative, he loves exploring different sounds, instruments and melodies.
Aifric Mac Aodha is the Irish-language poetry editor of Poetry Ireland Review, gorse and The Stinging Fly. Her first poetry collection, Gabháil Syrinx (The Taking of Syrinx), was published by An Sagart in 2010 and her poetry has been published in various magazines and journals, including POETRY Young Irish Poets. Her work has been translated to many languages, including French, German, Italian, Spanish and Czech. She has been awarded several bursaries by The Arts Council and, in recent years, she has read at numerous festivals in Europe, America, Canada and India. Her latest collection, Foreign News, with translations by David Wheatley, was published by The Gallery Press in 2017. She lives in Dublin where she now works for the Irish-language publisher, An Gúm.