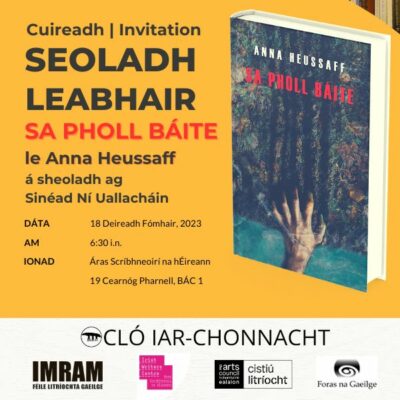 Book Launch: SA PHOLL BÁITE le Anna Heussaff  
Ba mhór ag Cló Iar-Chonnacht, IMRAM agus Anna Heussaff thú a bheith i láthair nuair a sheolfaidh Sinéad Ní Uallacháin. an t-úrscéal
Cló Iar-Chonnacht, IMRAM and Anna Heussaff cordially invite you to join us when Sinéad Ní Uallacháin officially launches the new novel: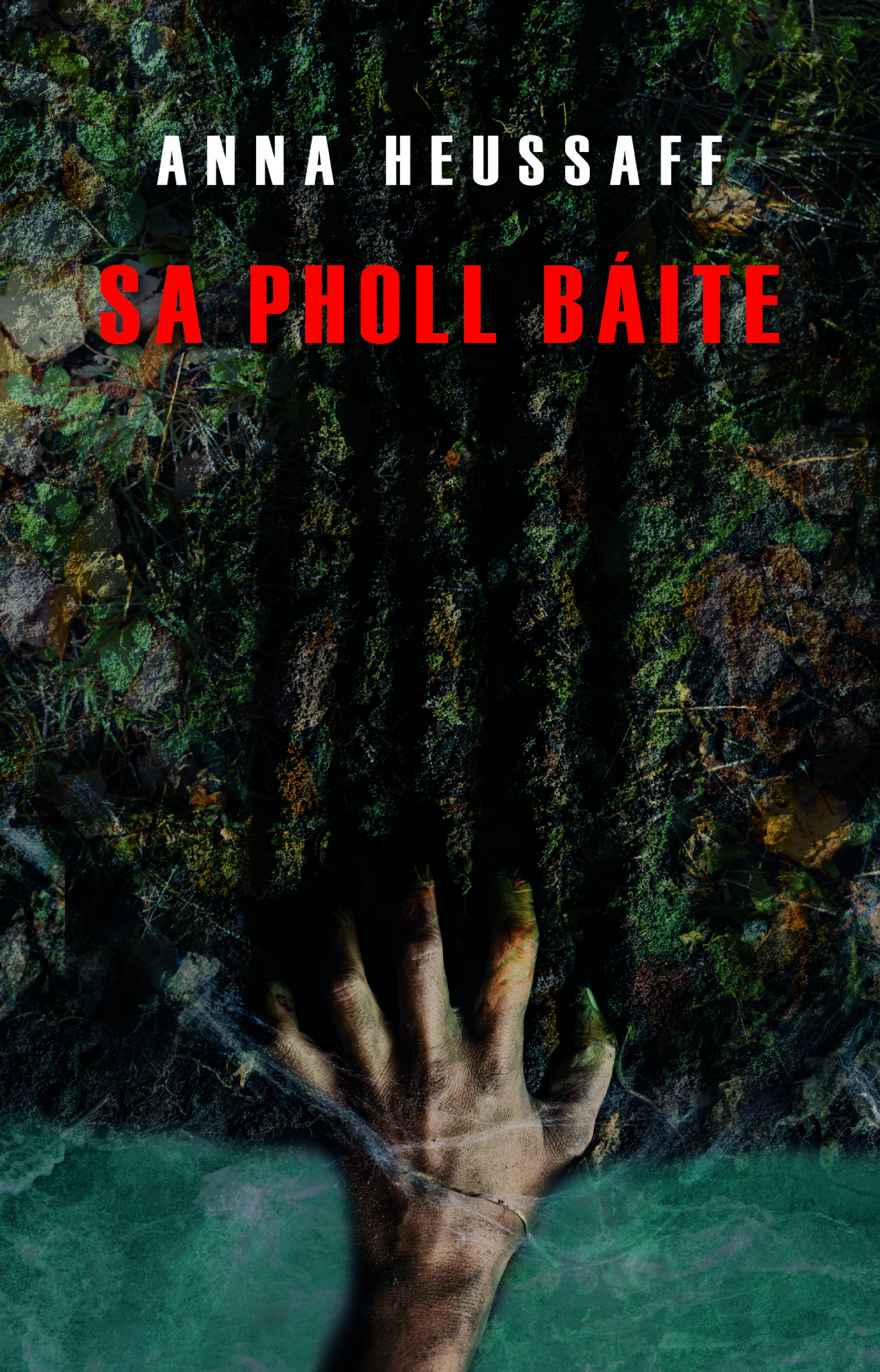 SA PHOLL BÁITE
le
Anna Heussaff  
---
 In Áras Scríbhneoirí na hÉireann, 19 Cearnóg Pharnell, Baile Átha Cliath 1
Mar chuid de chlár imeachtaí IMRAM.
Dé Céadaoin, 18 Deireadh Fómhair ag 6:30 i.n.
In the Irish Writers Centre, 19 Parnell Square, Dublin 1
as part of the IMRAM festival's programme of events.
Wednesday, 18 October, 6:30 p.m.
---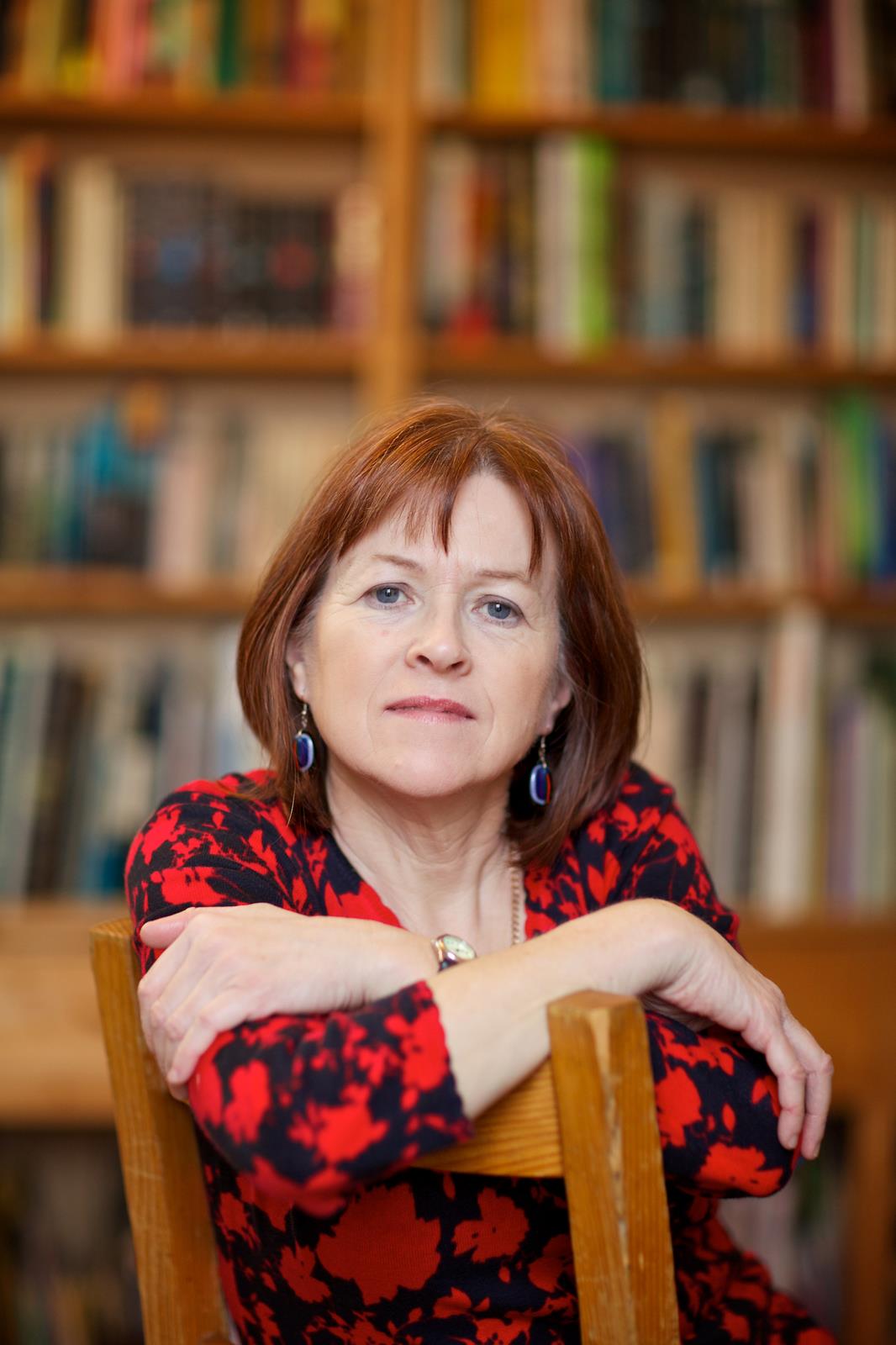 Anna Heussaff
Seolfaidh Sinéad Ní Uallacháin an t-úrscéal nua SA PHOLL BÁITE le Anna Heussaff in Áras Scríbhneoirí na hÉireann i rith na féile IMRAM.
Is úrscéal cumhachtach é SA PHOLL BÁITE a chaitheann solas géar ar choimhlintí sóisialta agus ar an nimh i gcroí an duine.
'Úrscéal cliste, cumasach a phléann go híogair le ceisteanna comhaimseartha. Tá luas breá faoi agus leibhéal na teanga fíor-oiriúnach do léitheoirí lánlíofa nó measartha líofa.'  – Sinéad Crowley, Comhfhreagraí Ealaíon & Meán le RTÉ, Úrscéalaí
Tá Emer Uí Ghríofa imithe gan tásc. I gcúinne uaigneach ar bhruach na Life a aimsíonn an Garda Réamonn Seoighe a corp. Tá a mac, Dan, cráite faoina bás ach cén drogall atá air labhairt leis na gardaí?
Tá Colmán Ó Gríofa ina theach saoire ar leithinis Bhéarra an deireadh seachtaine céanna, é scartha ó Emer ach dílis di i gcónaí.
Tacaíonn a chomharsa Aoife Nic Dhiarmada leis agus í ag éirí gafa sa chás. Tá noda fiúntacha agus fianaise bhréige á scagadh aicise agus ag na gardaí; tá faire faoi cheilt ar siúl istoíche agus an t-am ag sciorradh. An nochtfar an ciontóir sula ndéanfar an dara marú?
Bhain an saothar seo duais i gComórtais Liteartha an Oireachtais 2022.
---
Sinéad Ní Uallacháin will launch Anna Heussaff's new crime novel SA PHOLL BÁITE in the Irish Writers Centre at an event as part of the IMRAM festival.
"A clever and skilful novel that sensitively addresses contemporary issues. It is well-paced, and the language level suits fluent or moderately fluent readers." –  Sinéad Crowley, RTÉ Arts & Media Correspondent, Novelist.
Emer Ní Ghríofa vanished mysteriously, leaving no trace behind. Garda Réamonn Seoighe discovered her lifeless body in a lonely corner along the banks of the Liffey. Her son Dan is overwhelmed by grief at her loss, but he seems strangely reticent when speaking with the authorities.
Meanwhile, Colm Ó Gríofa is spending his weekend at his holiday home on the Barra peninsula, physically separated from Emer but unwavering in his loyalty to her memory. His neighbour Aoife Nic Diarmada stands by his side and becomes embroiled in the unfolding investigation.
Working with law enforcement, they meticulously sift through a tapestry of substantial clues and false evidence. The night unfolds with a covert surveillance operation. While time marches forward, will they unmask the culprit before another life is tragically taken?