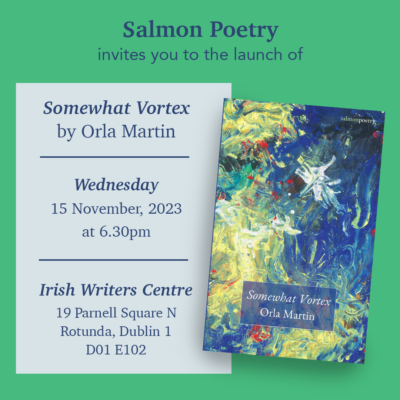 Book Launch: Somewhat Vortex by Orla Martin (Salmon Poetry)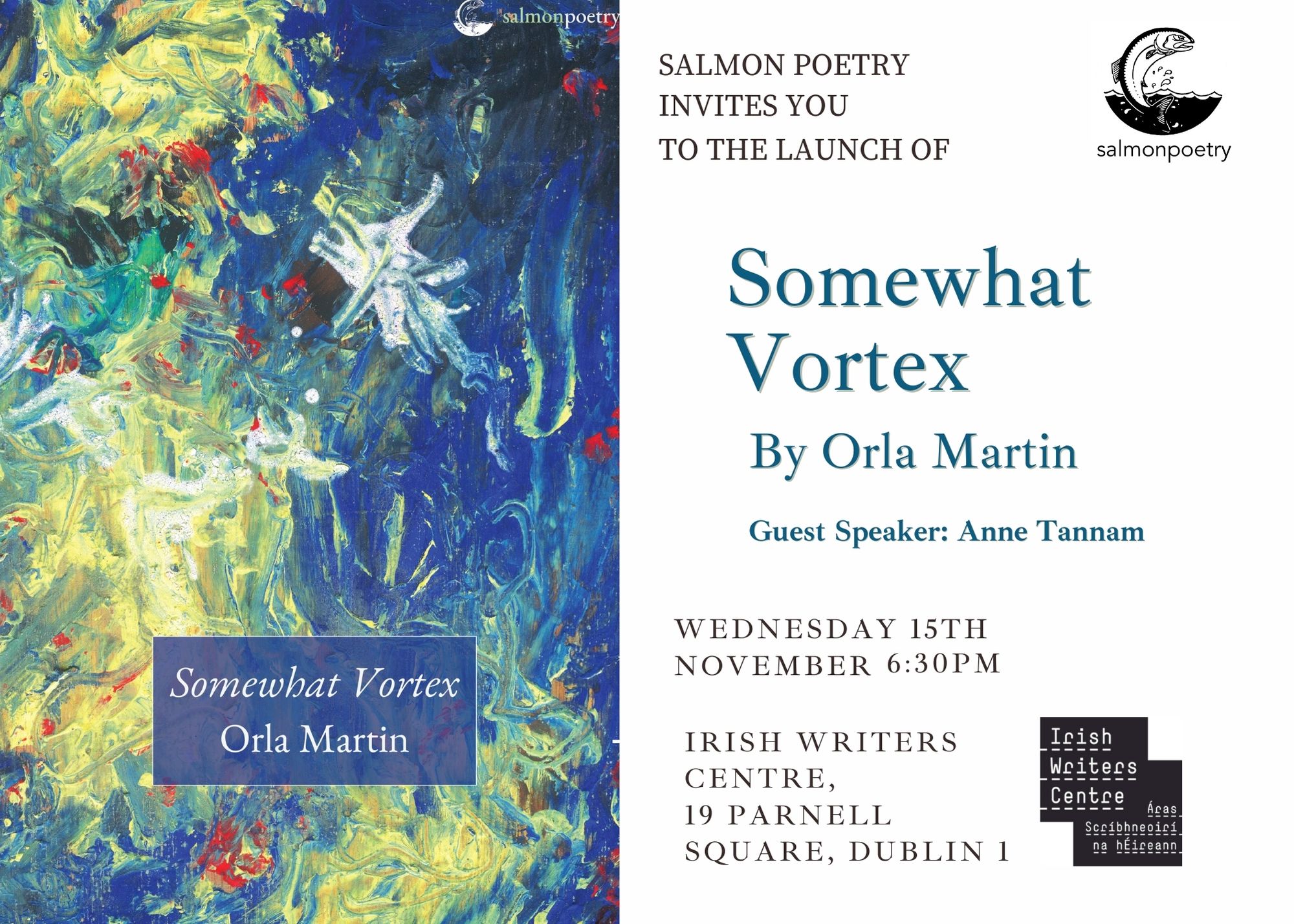 Somewhat Vortex
The debut poetry collection by Orla Martin, published by Salmon Poetry
will be launched at the Irish Writers Centre,
19 Parnell Square, Dublin 1
Wednesday 15th November 2023, from 6.30pm – 8.30pm.
Somewhat Vortex will be launched by poet and current Poet in Residence with Poetry Ireland, Anne Tannam. There will be a theatrical performance by actor and writer Margaret Martin. With thanks to artist and poet Esmé Lewis, for giving permission to use her beautiful painting as part of the book cover.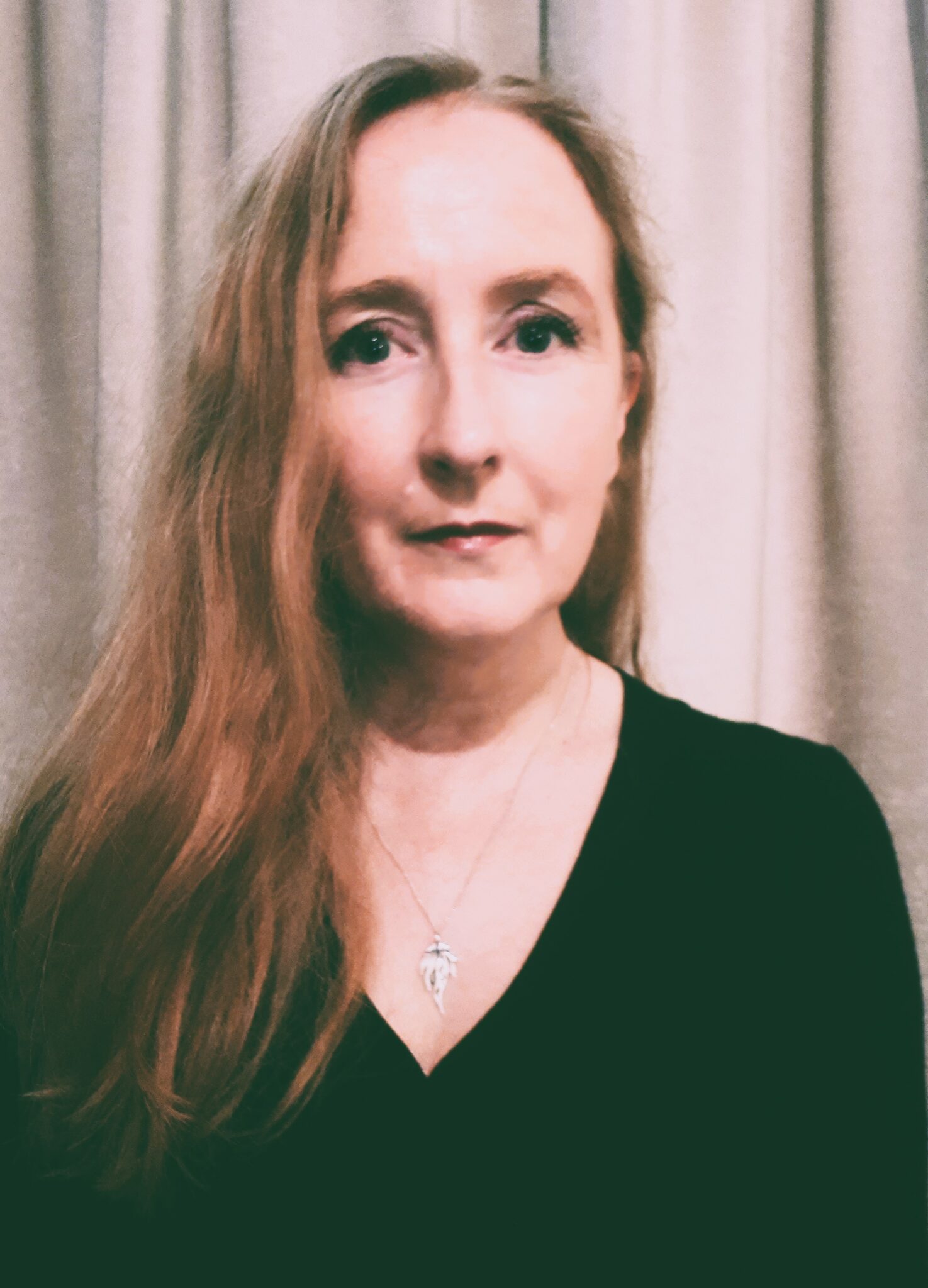 Headshot: Orla Martin
Somewhat Vortex, the debut poetry collection by Orla Martin, is a response to the ebb and flow of life. A singular and somewhat staccato style brings into focus a unique take on the banal, the absurd and occasionally a robin. Angled over life, the poet seeks to understand and connect the zig zag of people, the jagged and plume with lambent portraits of family, epilogues to love and a view from the poetry spectrum. There is a guest appearance by Wilson, the emotional support blackbird. There are Tuesday clothes. There could have been many more references to Radiohead. There are poems that may create something beautiful, perhaps.
"There is something wonderfully theatrical about Orla Martin's debut collection Somewhat Vortex, with many of its poems begging for a mike and a captive audience…Short and sweet, with a satisfying sting in its tail, Somewhat Vortex will have you standing in your seat, shouting 'More!' "
Anne Tannam
"Orla Martin's debut collection is to be admired as a confident body of work. The ironic voice is totally contemporary, at home with images of space travel or a poet cycling down the South Circular Road. The cadences are delightful, the language witty and pithy. She wields words as a skilful surgeon wields a scalpel."
Jack Harte
"Martin navigates labyrinths with deft alacrity."
Tanya Farrelly
Admission free but booking is essential via Eventbrite.
---
Building Access
The Irish Writers Centre is currently housed in 19 Parnell Square, Dublin 1. This is a Georgian building which unfortunately does not have a lift. There are 5 steps into the entrance level. The majority of the event's activities will take place in the Kiely room which is on the first floor and requires climbing 30 steps in total. There are public toilets available and these are located on the ground floor and basement floor of the building. For further information on access to our building, please email: info@irishwriterscentre.ie.