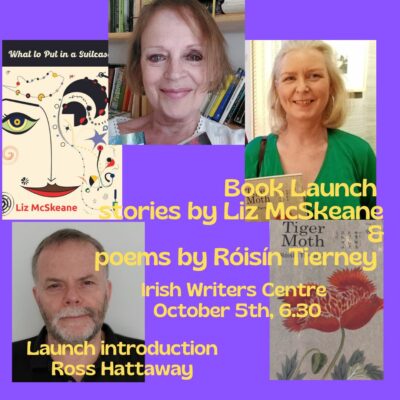 Turas Book Launch: What to Put in a Suitcase & Tiger Moth
Info
Date:
October 5, 2022
Time:
6.30-8.30pm
Location:
Irish Writers Centre
Price:
Free
Join us for a special event with Turas Press, to celebrate the launch of  What to Put in a Suitcase by Liz McSkeane and Tiger Moth by Róisín Tierney.
Register here
Poet and fiction writer Liz McSkeane was born in Scotland to an Irish/Scottish family and has lived 
lin
Dublin since 1981. In 1999 she won the Hennessy/Sunday Tribune New Irish Writer of the Year Award for her poetry. Her historical novel
Canticle 
was joint winner in the 2016 Irish Writers' Centre Novel Fair competition. She has four collections of poetry and her poems and stories have been widely published and anthologised in Ireland and the UK. She is founder and Director of Turas Press.
The
 sixteen stories in 
What to Put in a Suitcase
follow a cast of characters destined to navigate a rich variety of situations that are by turns perplexing, stimulating, threatening. These stories grapple with individual psychology and with wider themes of justice and the place of the individual in contemporary society, at times seasoned with a sly humour.
Róisín Tierney  was born in Dublin and studied Psychology and Philosophy at University 
CollegeDublin
. She lived in Spain for several years and is now based in London. Her poetry has won prizes in many national competitions including the Strokestown, the Brendan Kennelly, the Bridport and the Winchester Poetry Prize. Her pamphlet Dream Endings (Rack Press 2011) won the Michael Marks Award. She has been a Hawthornden Fellow.  
Tiger Moth  
is her fourth collection.
Tiger Moth is a magical collection of poems whose themes range over memories and emotions evocative of key moments and milestones in life, where the particular expands to embrace experiences that are universal, yet imbued with the poet's unique vision.