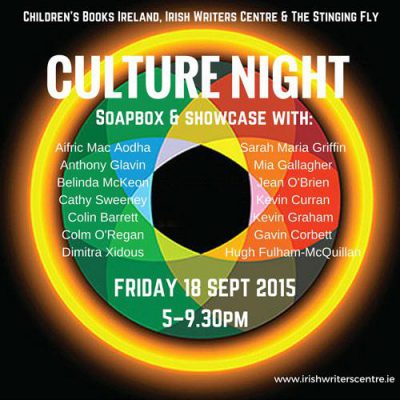 Info
Date:
September 18, 2015
Date: 18 September
Time: From 5pm 
Location: Irish Writers Centre
Immerse yourself in literary fun for all ages at Parnell Square – brought to you by Children's Books Ireland, the Irish Writers Centre and The Stinging Fly.
Free Events
17.00–19.00: Meet the CBI Book Doctor: book recommendations for young readers
19.30–20.30: The Soapbox: see writers from all walks of life take to the platform for some old-school entertainment.
Guests include:
Kevin Curran
Gavin Corbett
Mia Gallagher
Anthony Glavin
Sarah Maria Griffin
Belinda McKeon
Jean O'Brien
Colm O'Regan
20.30–21.30: The Stinging Fly showcase with music from Larry Beau
Readings by:
– Colin Barrett
– Hugh Fulham-McQuillan
– Kevin Graham
– Aifric Mac Aodha
– Cathy Sweeney
– Dimitra Xidous
Greenbean Novel Fair with Kevin Curran
Meet Kevin Curran, former Novel Fair winner and author of Beatsploitation and get the inside track on what being a Novel Fair winner means. For those looking to submit to the competition, expect some handy last-minute manuscript tips too! Kevin will also be reading from exciting new material.
All welcome to come along to this information session and reading, novelists and readers alike.
Session 1: 18:00
Session 2: 18:30
Free Tours
The Irish Writers Centre houses the exquisite and diverse FX Buckley art collection and two guided tours with Emma O'Toole (Hugh Lane Gallery) will be available on Friday 18th.
Tour 1, 17:45: book your free ticket here.
Tour 2, 18.45: book your free ticket here.
Free Workshops
18.30–20.00: Creative writing workshop with the Inkslingers writing group. Ever wanted to know what goes on behind the doors of a writing group? Now's your chance to connect with the resident IWC group. All welcome!