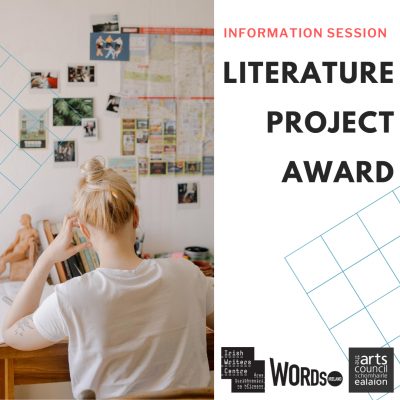 Information Session: Literature Project Award
Info
Date:
September 1, 2020
Starts: Tuesday 1 September 2020
Time: 11am -12.30pm (Irish Standard Time, GMT+1)
Register in advance for this webinar here.
The Arts Council has recently introduced a Literature Project Award in recognition of the changing landscape for literary work in Ireland (deadline 10 September 2020). They are conscious that there are numerous ways in which literature reaches readers and audiences, and that writers are often working in new and innovative ways, often in
collaboration with other writers or artists from other disciplines. The Award will fund print and online publications, live literature, residencies, podcasts, workshops and much more besides, including projects that allow writers and illustrators to research, develop and create work in new and innovative ways.
This Information Session will shed light on the application process and discuss the wide variety of ways in which the €20,000 maximum can be spent. We'll also discuss ways in which writers can partner with venues, libraries, festivals, publishers, bookshops and others in order to make their projects happen, offering inspiration as well as valuable information. There will be opportunities for Q&A at the end.
Sarah Bannan is Head of Literature at the Arts Council of Ireland and a novelist.
Hilary Copeland is the Acting Director of the Irish Writers Centre, she has worked in arts management for over ten years, for festivals, arts and theatre companies and nonprofits in Edinburgh and Belfast. She has worked across business management, strategic planning, creative programming and event delivery.
Dani Gill is a writer, curator, producer and arts consultant. She is Audience Development Officer for Words Ireland and Director of the Ennis Book Club Festival.
Brendan Mac Evilly is a writer and literary producer. He is freelance programmer for Words Ireland and runs Holy Show arts magazine and production company.