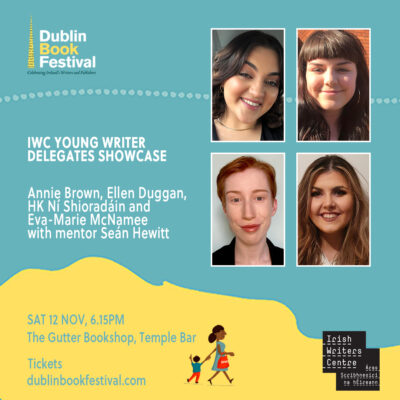 IWC/DBF Young Writer Delegates Showcase
Info
Date:
November 12, 2022
Time:
6.15pm
Location:
The Gutter Bookshop
Price:
Free
Register here
For a fifth year running, Dublin Book Festival is delighted to partner with Irish Writers Centre to give four writers between the ages of 18 and 26 the opportunity to join this year's programme. As well as being invited to attend a variety of events at DBF 2022, an established writer on the Dublin literary scene will mentor the writers through a series of workshops, providing invaluable advice and guidance on succeeding in, and enjoying, life as a writer. The programme will culminate in this showcase evening, where the young writers will share some of the work developed throughout the festival with their mentor.
This year's awardees are Ellen Duggan, HK Ní Shioradáin, Annie Brown and Eva-Marie McNamee, and their mentor for the programme will be Seán Hewitt.
Ellen Duggan is a third year English Literature student at University College Dublin, where she has contributed to the student-led creative writing publication, Caveat Lector, as well as to the Universities paper, the University Observer. Through previous experiences in collaborative, literary spaces, such as the RHA young art writers course, she has found joy in communal writing environments, and hopes to explore the journey of her writing in the terrain of these spaces more in her future.  
HK Ní Shioradáin is a bilingual spoken word poet, performing in Irish and English. They have a BA in English Literature and Film, and a degree in Music Composition for Games. Recent accolades include Axis Assemble, Céadlínte Éigse Éireann/Poetry Ireland's Introductions 2022, and the Máire Mac an tSaoi Award for their poetry. They love exploring themes of queerness and disability in their work.
Is file ó bhéal dátheangach iad HK Ní Shioradáin. Tá BA acu sa Bhéarla agus sa Scannánaíocht, agus céim sa Chumadóireacht Ceoil do Chluichí Ríomhaire. Éachtaí a bhain siad amach le déanaí ná Axis Assemble, Céadlínte Éigse Éireann, agus Gradam Máire Mac an tSaoi. Is mion minic a bhíonn téamaí den aiteachas agus míchumas ina gcuid saothair.
Annie Brown is a writer based in Limerick, where she has been involved in the arts community since 2017. Annie holds a BA in Contemporary and Applied Theatre Studies, and is currently researching the representation of women as witches in the work of modern and contemporary Irish women playwrights. Annie has been an avid writer since her youth, and has written a variety of short stories, poems, and plays. Her work is inspired by nature, mythology, and the speculative, and often deals with her personal experience as a woman in Ireland.
Eva-Marie McNamee is a writer from Gleann Fhinne, County Donegal, currently based in Dublin. She was shortlisted for the WriteNow programme with Penguin in 2021 for a novel she wrote and was the recipient of an IWC Course Bursary in 2022. Her writing explores social issues, human connections and new technologies. Eva-Marie also holds a BA in English, Sociology and Politics.
Seán Hewitt's debut collection, Tongues of Fire, was published by Jonathan Cape (2020). It won The Laurel Prize in 2021, and was shortlisted for The Sunday Times Young Writer of the Year Award, the John Pollard Foundation International Poetry Prize, a Dalkey Literary Award. In 2020, he was chosen by The Sunday Times as one of their "30 under 30" artists in Ireland. His memoir, All Down Darkness Wide is published with Jonathan Cape (2022). He is a Poetry Critic for The Irish Times and teaches Modern British & Irish Literature at Trinity College Dublin.