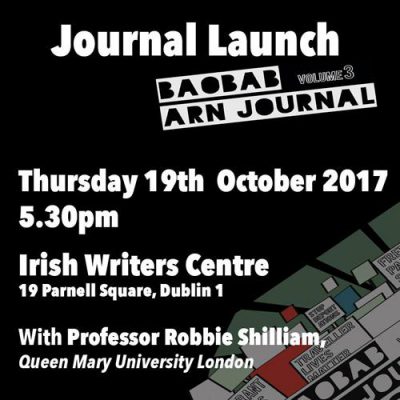 Journal Launch: Baobab Volume 3
Info
Date:
October 19, 2017
Date: Thursday 19 October 2017
Time: 5.30pm (workshop 'Colonial Histories of the White Working Class')
Anti Racism Network is honoured to host Professor Robbie Shilliam at the launch of the Baobab Volume 3, The ARN Journal on Thursday 19th October 2017.
Join us at 5:30pm for a workshop with Professor Robbie Shilliam themed, 'Colonial Histories of the White Working Class'. The Baobab launch will follow with presentations from some of the contributors.
Baobab Volume 3 is edited by Ronit Lentin, Shhay-Biya Ty and Vanessa Stout. It includes writing from Hassan Ould Moctar on Ireland and the New European Racism, Lucky Khambule on MASI – the Movement of Asylum Seekers in Ireland, David Landy on his first protest, Vukasin Nedeljkovic of Asylum Archive's 'Unpublished Direct Provision Diary, 2007-2009', poetry by Raneem Saleh, Ryma Halfaoui and Weatherly, artwork by Mahasty Eslahy, photography by Fatim Al Tamimi, and Gary Daly & Mireille Fanon Mendez on the violent resonances between the border zones of Calais and Gaza.

About our guest speaker: 
Robbie Shilliam is Professor of International Relations at Queen Mary University London. His publications include: The Black Pacific: Anticolonial Struggles and Oceanic Connections (2015) and (with Alex Anievas and Nivi Manchanda) Race and Racism in International Relations: Confronting the Global Colour Line (2014).
Robbie works with various Rastafari and Black community organisations, co-convenes the British International Studies Association's Colonial/ Postcolonial/Decolonial working group, is a member of the International Advisory Board of the Transnational Decolonial Institute, and a Runnymede Trustee. He blogs at thedisorderofthings.com and robbieshilliam.wordpress.com