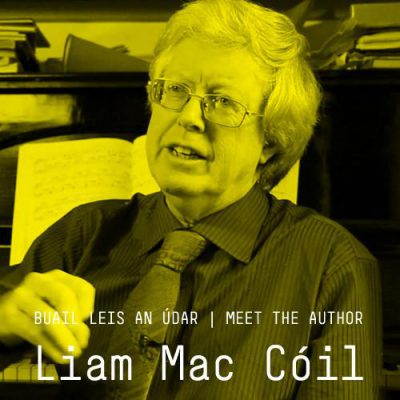 Meet the Author | Buail leis an Údar: Liam Mac Cóil
Irish Writers Centre in association with IMRAM present Meet the Author / Buail leis an Údar 
Tuesday 05 May, 7pm: Liam Mac Cóil
Ever wanted to find out what makes an author tick? Perhaps you're interested in their creative process, their inspirations or even their writing routine. Do you have a question you'd love them to answer? Or maybe you've always wanted to hear them read in intimate and ambient surroundings. This is your chance to connect with these well-known Irish language writers over the course of three weeks.
Join us for the final of this series of events, hosted by Cathal Póirtéir as he chats to Liam Mac Cóil.
About the author:
Liam Mac Cóil
A prose stylist par excellence, Liam Mac Cóil is one of Ireland's finest writers in any language. His first novel, An Dochtúir Áthas, won immediate acclaim for its heady fusion of detective fiction and Freudian psychoanalysis. Writing in the Irish Times, Pól Ó Muirí described the historical thriller An Litir as 'a swashbuckling adventure set in Galway in 1612, with an evocative cover that speaks of action and adventure. Then again, perhaps using the word "swashbuckling" does Mac Cóil a disservice. He has written a fine novel that makes Irish very physical – that is to say, reminds the reader that vigorous descriptions of action, movement and violence are as much a part of the language's repertoire as the reflections and loftier moments found in its poetry. You can feel the boots and blades in Mac Cóil's Galway'. Liam Mac Cóil is also the author of An Chláirseach agus an Choróin, a tour-de-force biographical study of composer Charles Villiers Standford.
The first two events in this series welcomed Éilís Ní Dhuibhne and Frank Reidy.
Éilís Ní Dhuibhne
Winner of the 2015 Irish PEN Award for Outstanding Contribution to Irish Literature 2015, Éilís Ní Dhuibhne is one of Ireland's best-loved fiction writers. Fox Swallow Scarecrow exemplifies what the Irish Times described as 'Ní Dhuibhne's pre-eminent technical gift – to evoke a character or mood unmistakably in three words – is dazzling. It is what enables her to develop this book from a social satire about literary Dublin into a serious, angry novel which is an emotional roller coaster'. Her books in Irish include coming-of-age tales and detective thrillers. Dordán is a fast-paced novel of love and sadness, friendship and hostility, exploring the challenges of modern teenage life. Of her bestselling novel Cailíní Beaga Ghleann na mBláth, Alan Titley said 'this deceptively simple story is a pleasure to read. The writing is clear, plain, lucid and stylish. The artistry on the surface goes a long way down'.
Frank Reidy
Winner of the 2010 Gradam Uí Shúilleabháin Irish Language Book of the Year Award, former Irish Army officer Frank Reidy's Ó Chósta go Cósta explores the people and landscapes of Eastern Africa. In this beautifully written and lavishly illustrated travel book, Reidy sails around the Kenyan coast in a traditional dhow; visits Barack Obama's grandmother; goes on safari; and returns to Rwanda, where he worked with the UN in 1994, to see how the country is recovering in the years following genocide. In Seal san Aetóip: Sa Tóir ar Áirc an Chonartha, he follows the trail of the fabled Biblical Ark of the Covenant from Jerusalem to Ethiopia. He studies the Ark's central role in Ethiopian culture and history, whilst revealing the joyful spirit of the country's people.