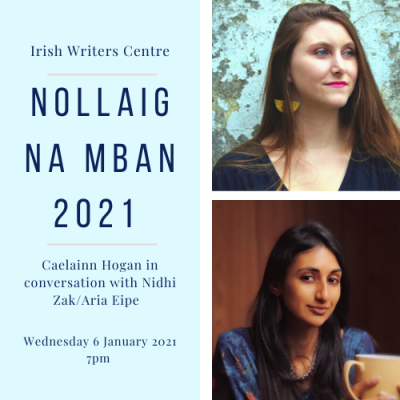 Info
Date:
January 6, 2021
Wednesday 6 January 2021
7pm – 8pm
The Irish Writers Centre is delighted to present Nollaig na mBan 2021. This year, our annual Nollaig na mBan event will look slightly different as we move celebrations online. Nollaig na mBan has traditionally been marked by informal gatherings of women. This January, though in-person gatherings won't be possible, we will be continuing the spirit of Nollaig na mBan virtually, bringing the sense of community and connection to your homes. 
We are delighted to be joined by Caelainn Hogan and Nidhi Zak/Aria Eipe who will be embracing the tradition of Nollaig na mBan by remotely 'visiting' and discussing their own work amid the landscape of women's literature today. Nollaig na mBan is an occasion to celebrate the achievements of women in Ireland and internationally, and we are looking forward to an evening of readings and conversation with these two acclaimed writers.
We will also be carrying on the tradition of our book swap this year by amplifying the work of your favourite writers via our social media platforms. We invite anyone who would like to get involved with this year's Nollaig na mBan to follow us on social media. Post a picture of your work or the work of your favourite woman writer to Instagram or Twitter, tag us @IrishWritersCtr and use the hashtag #NollaigNamBan to help us in sharing some great reading recommendations among our community of writers. 
So relax, put on the kettle and dig out the last of the Christmas cake this January 6th as we gather together in the digital sphere to celebrate Nollaig na mBan 2021. 
Caelainn Hogan is a writer and journalist from Dublin. Her first book Republic of Shame explores the ongoing legacy of Ireland's religious-run institutions. She has reported internationally for The New York Times Magazine, National Geographic, The Guardian, VICE Magazine, Al Jazeera, The Washington Post and more.
Nidhi Zak/Aria Eipe is a poet, pacifist and fabulist. She is the founder of the P[l]ay It Forward Fellowships, poetry editor at Skein Press, and co-editor of Hold Open the Door: The Ireland Chair of Poetry Commemorative Anthology. Her debut poetry collection is forthcoming with Faber & Faber in July 2021.