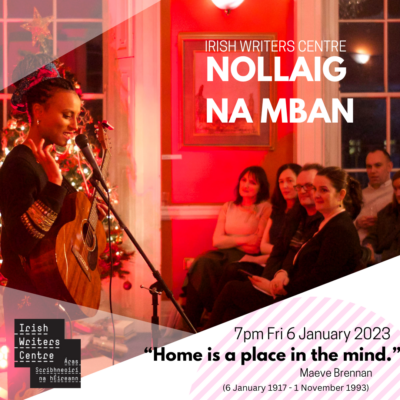 Nollaig na mBan 2023: Home
Info
Date:
January 6, 2023
Time:
7.00pm–9.30pm
Location:
Irish Writers Centre
Price:
€22 (€20 Members)
Register here
Join us for a night of readings, music and fun in celebration of women writers worldwide at our annual Nollaig na mBan event.
The theme for the night is Home, in all its many facets and manifestations.
Traditionally, Nollaig na mBan, aka Women's Christmas or Little Christmas, was a day off for the hard-working woman in the home, relieving her of the household chores and leaving the work up to the men for the day. Our Nollaig na mBan programme will turn this quaint custom on its head with its 21st century interpretation of the meaning of "home," taking inspiration from the words of Maeve Brennan:
"Home is a place in the mind." 
Award-winning writer, editor, broadcaster and Nollaig na mBan MC since 2015 Sinéad Gleeson will be our host for the evening, introducing a schedule of readings that celebrate the very best of Irish women's writing.
Louise Nealon, Suad Aldarra, Claire Kilroy and Nithy Kasa will offer a series of fast-paced commissioned Soapbox performances, sharing personal narratives on their views of home. Further stirring additions to the programme will come from Irish PEN / Freedom to Write campaign member Catherine Dunne and Dr Roja Fazaeli, Chair of the Immigrant Council of Ireland and Assistant Professor of Islamic Studies at TCD.
Publisher Arlen House will join in the proceedings with a showcase of contributors to Look! It's a Woman Writer! a feminist anthology conceived, assembled and edited by IWC Ambassador Éilís Ní Dhuibhne, celebrating women born in mid-twentieth-century Ireland whose literary lives have spanned half a century and whose works are still relevant and read widely today. This segment will feature writers Liz McManus, Anne Devlin, Mary Rose Callaghan and Phyl Herbert.
Musical entertainment will be provided by the wonderful ESSIRAY.
As in previous years, we're encouraging those attending to take part in a New Year's Kris Kindle extravaganza. Bring along a much-loved book by a woman writer, wrap it and label or tag it with a description of no more than three lines. If you bring a book, you go home with one too!
Ticket price includes a complimentary glass of wine.
---
This event is currently sold out. If you would like to join us, please email info@writerscentre.ie to be added to our waiting list.
---
Irish Writers Centre is a not for profit organisation, committed to supporting Irish writers. A small donation will go towards the development of future programmes and events. To donate please click here. Thank you!
---