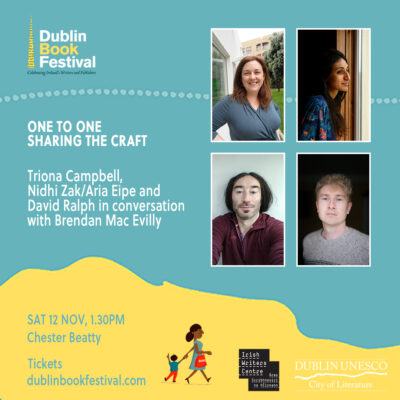 One to One: Sharing the Craft
Info
Date:
November 12, 2022
Time:
1.30pm
Location:
Chester Beatty
Price:
Free
Register here
No one will write your book for you except you, but having a mentor through formal relationship or friendship can be instrumental in the development of your work in progress, your craft and confidence. This session will look at the broader question of what it means to write well, and how a mentor can help you advance your work.
Brendan Mac Evilly, coordinator of the Irish Writer Centre's National Mentoring Programme, will be in conversation with Tríona Campbell, Nidhi Zak/Aria Eipe and David Ralph, all writers and previous beneficiaries of the National Mentoring Programme thanks to support from Dublin City Council.
Nidhi Zak/Aria Eipe
Nidhi Zak/Aria Eipe is a poet, pacifist and fabulist. A finalist for the International Dylan Thomas Prize and the John Pollard Foundation International Poetry Prize, her first collection, Auguries of a Minor God, was published by Faber & Faber in 2021. Founder of the Play It Forward Fellowships for writers traditionally underrepresented in Irish literature, she serves as poetry editor at Skein Press and Fallow Media, and contributing editor with The Stinging Fly. She is currently writing a hybrid memoir on language, desire and the more-than-human.
Triona Campbell
Triona Campbell began her professional career producing television for young audiences. She is an award-winning and Emmy-nominated producer and the creator of Gamer Mode, a TV series about video games. Triona was also an EU Ambassador for female entrepreneurs. Her passion for storytelling led her into writing. She is a graduate of the M.Phil. in creative writing at Trinity College. She was supported by Words Ireland as part of the National Mentoring Programme in 2020 (mentored by the amazing Louise O Neill). Triona's debut young adult series, A Game Of Life Or Death, was acquired in a three-book deal by Scholastic UK in auction. Described as Ready Player One meets Black Mirror, A Game of Life or Death is a contemporary thriller with a high-stakes speculative twist and will be published in February 2023.Triona is represented by the Marianne Gunn O'Connor Literary Agency and for TV/film by Michelle Kroes at CAA.
David Ralph
David Ralph's stories and essays have been published in Dublin Review, Southword, New Irish Writing, Litro, Fish, and elsewhere. He was placed third in the 2022 Fish Memoir Prize for his piece 'Two Bastards'. He won a New Irish Writing Award in 2020 for his short story 'Taghazout'.
Brendan Mac Evilly
Brendan Mac Evilly is freelance co-ordinator of the Irish Writers Centre's National Mentoring Programme. He is also director and editor of HOLY SHOW arts magazine. He is the author of At Swim: A Book About the Sea (Collins Press) and his fiction and non-fiction has been published in the Stinging Fly, The Honest Ulsterman, The Sunday Times, the Irish Times, and the Guardian among other places. His fiction is represented by Ludo Cinelli at the Eve White Literary Agency.