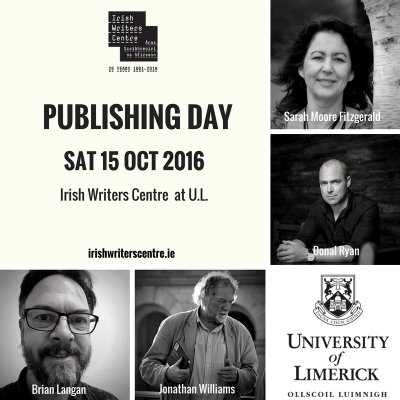 Publishing Day in association with University of Limerick
Info
Date:
October 15, 2016
Date: Saturday 15 October 2016
Time: 10.30am–4pm
Venue: University of Limerick
Cost: €30 / €25* IWC Members | Booking via Eventbrite
The Irish Writers Centre is thrilled to take our established Publishing Day series on the road and connect with new audiences in Limerick and surrounding area.
In association with Prof Joseph O'Connor and the University of Limerick, and supported by Words Ireland, this one-day seminar is suited to writers of all genres and forms who are seeking to get published.
Sarah Moore Fitzgerald (writer) will provide quality advice on editing and redrafting your work, Brian Langan (Transworld/Doubleday) will discuss the editorial and submission process, Jonathan Williams (Literary Agent) will present on agenting and rights and Donal Ryan (writer) will reveal all about his journey from aspiring novelist to published author.
Timetable:
10.30-11.40am: Sarah Moore Fitzgerald
11.50am-1pm: Brian Langan
LUNCH 1-2pm
2.00-3.10pm: Jonathan Williams 
3.15-4.15pm: Donal Ryan

Venue: Room SG20, Schumann Building, UL