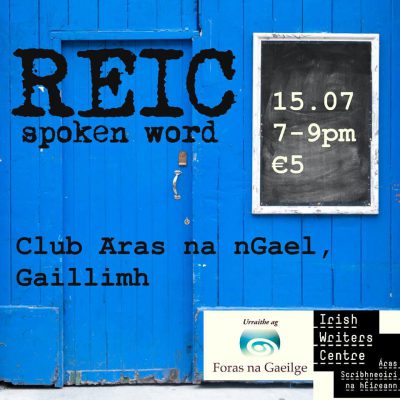 Date: Friday 15 July 2016
Venue: Club Áras na nGael, Gaillimh (Galway)
Time: 7pm–9pm
Tickets: €5 on door
Filíocht, rap, agus ceol | Béarla agus Gaeilge | Fáilte roimh chách
Tá an ócáid seo á heagrú i gcomhpháirtíocht le Áras Scríbhneoirí na hÉireann, le maoiniú ó Foras na Gaeilge.
Tá Reic ar siúl go rialta i mBaile Átha Cliath ó bunaíodh anuraidh é, agus bhí sé i láthair ag na féilte Electric Picnic agus LINGO chomh maith.
Le linn na bliana bhí Séamus Barra Ó Súilleabháin, Marcus Mac Conghail, Rónán Ó Snodaigh, Temper-Mental MissElayneous, Eva O'Connor, agus MC Muipéad páirteach, agus go leor leor eile. Anocht cuirfidh bean an tí Ciara Ní É fáilte roimh fhilí iontacha ó gach cearn den tír.
NB: Tosóidh an ócáid seo in am.
*Líon áirithe soláistí saor in aisce ar fáil – bígí luath le taitneamh a bhaint astu!*
FILÍOCHT
Kevin Higgins – https://youtu.be/l4g7y-Tf0YE?t=45s
Seosamh Ó Guairim – http://tinyurl.com/h4y2jy7
Anne Marie Kennedy – https://thegalwayreview.com/2014/06/06/anne-marie-kennedy-to-a-tuam-mother/
& roinnt eile nach iad.
SCÉALTA
Cillian Ó Braonáin – https://youtu.be/Xa1wW04nKso
RAP
MC Muipéad – https://www.youtube.com/watch?v=EiXQHMTLTtU
CEOL
Emma Ní Chearúil – https://soundcloud.com/emmachear-il/in-memoriam
BEAN AN TÍ
Ciara Ní É
http://www.twitter.com/miseciara
https://www.youtube.com/watch?v=mvPytlU-dew
Cúpla spás open mic fágtha go fóill!
Bígí i dteagmháil – reic.eire@gmail.com
==============================
This bilingual spoken word event supported by Foras na Gaeilge will feature poems, rap, songs, and music, with open mic too. All welcome!