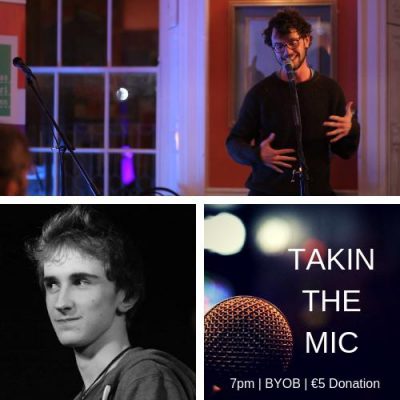 Takin' the Mic with Guest MC Cormac Fitz and Guest Performer Stephen Clare
Info
Date:
January 25, 2019
Date: Friday 25 January 2019
Time: 7-9 pm
Suggested Donation: €5
Welcoming poets, prose writers, songwriters and musicians, comedians and anyone else who wants to have a go at our monthly open mic night. Guest MC on the night is Cormac Fitz and special guest performer is Stephen Clare.
Cormac Fitz is a spoken word poet and performance artist from Dublin. He writes about life, death, and some things in between and has performed in such exotic locations as Joe Lees Bar, Tullamore, the International Bar, Dublin city, and the Old Bakehouse, Miltown Malbay.
Stephen Clare is an award-winning poetry and spoken word artist living in Dublin. He is the reigning All Together Now slam champion, a multiple time winner of Slam Sunday, and a runner-up in the inaugural Lingo slam. His work has been featured on RTE television and radio several times in recent years. He also writes bespoke poems on a typewriter; making poetry fun, messy, and accessible.
A few things to note: 
– Five mins per performer
– BYOB
– Slots are on a first come, first served basis
– Performers should sign up in advance via Eventbrite (free!)