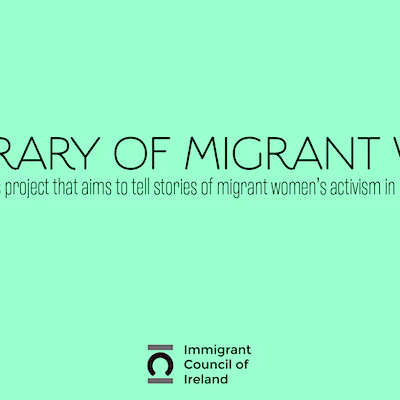 Launch: The Library of Migrant Women
Info
Date:
September 14, 2022
Time:
6.30-8.30pm
Location:
Irish Writers Centre
Price:
Free
Register here
Join us for the launch of The Library of Migrant Women project launch at the Irish Writers Centre, on 14th September from 6.30-8.30pm.
---
The Library of Migrant Women is a participatory arts project created by migrant women to tell
stories of their activism in Ireland. It features 11 stories written by migrant women about the social
issues that affects them daily, and their work to transform their life and the lives of those around
them. The issues described by the authors range from community health care and diversity in arts to
voters' education and anti-racism.
The 11 women participating in the project represent diverse backgrounds in terms of ethnicity,
nationality, immigration status, sexuality, and religion. Writers include well-known as well as
emerging activists to ensure new voices are included in a public discourse about migrant women.
Following the launch the stories will be available at the Immigrant Council's website.
The projects was conceived as a part of Teresa Buczkowska's Fellowship at the Social Change
Initiative in partnership with the Immigrant Council of Ireland. Teresa closely collaborated with a
poet, translator, visual artist, and educator Oana Sânziana Marian on the delivery of the project.
The project was made possible with the financial support of the Social Change Initiative and the
Department of Children, Equality, Disability, Integration and Youth (The Community Integration
Fund).
Contributors:
Teresa Buczkowska – project coordinator, writing tutor and writer
Oana Sânziana Marian – project writing tutor, editor and writer
Beryl Ohas – writer and launching event host
Karen Aguiar – writer
Alessandra Azevedo – writer
Mariaam Bhatti – writer
Natalia Ferreyra-Carroll – writer
Neo Florence Gilson – writer
Bomi So – writer
Mary Lelo Thebe – writer
Lora Ruth Wogu – writer