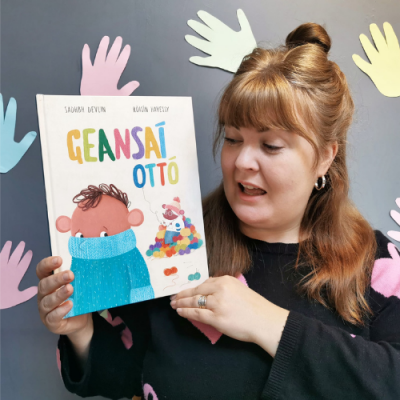 Ag Scríobh Pictiúirleabhair le Sadhbh Devlin
Info
Date: January 13, 2022
Time: 6.30pm - 8.30pm
Duration: 6 Weeks
Level: Beginner |
Cost: €165 (€150 Members)
Course Summary
Cúrsa praiticiúil, idirghníomhach dóibh siúid a bhfuil spéis acu i litríocht do pháistí a scríobh as Gaeilge. Beidh an cúrsa seo ag díriú go sonrach ar chonas pictiúirleabhair a scríobh – céard le scríobh faoi, conas é a scríobh, conas oibriú le maisitheoir agus conas scéal a réitiú le cur faoi bhráid foilsitheoirí. An aidhm atá leis ná na huirlisí a thabhairt dóibh siúid ar mian leo scríobh do pháistí óga.
---
Course Outcomes
Ag deireadh an chúrsa seo, beidh tuiscint láidir ag na rannpháirtithe ar seánra na bpictiúirleabhair, ar conas pictiúirleabhar a scríobh agus na scileanna le dréacht de phictiúirleabhar dá gcuid féin a scríobh.
---
Tá trí pictiúirleabhar scríofa ag Sadhbh Devlin; Bí ag Spraoi Liom! (maisithe ag Tarsila Kruse, Futa Fata, 2017), Beag Bídeach (maisithe ag Róisín Hahessy, Futa Fata, 2018) agus a leabhar nua, Geansaí Ottó (maisithe ag Róisín Hahessy, Futa Fata, 2020). Ainmníodh Beag Bídeach ar ghearrliosta CBI Book of the Year Award, Gradam Réics Carló, LAI Book of the Year Award agus iBbY Ireland Hans Christian Andersen Honour List. Tá cónaí uirthi i gCo. Chill Mhantáin lena fear chéile agus beirt iníon.
---