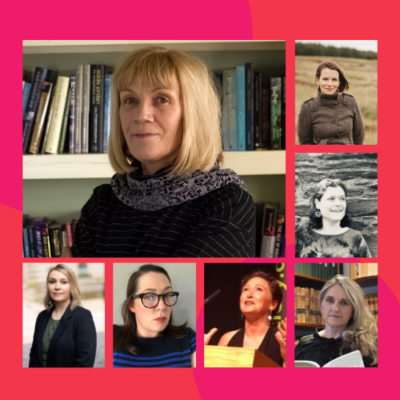 The Northern Soul Roadshow with Fiona O'Rourke
Info
Date: March 26, 2022
Time: 10.00am - 12.00pm
Duration: 6 Weeks
Level: Beginner | Emerging |
Cost: €180 (€160 Members)
Programme Summary:
Interested in exploring the Northern Irish experience through writing? Want to meet inspirational women writers and hone your craft in a supportive writing community?
Join us online for the Northern Soul Roadshow featuring guest authors and practical writing exercises. This programme is for writers of all genres and genders who are interested in the Northern experience. Here you will hear readings of fiction, poetry to music, young adult fiction, spoken word, and creative nonfiction/journalism.
Please note that the programme will not take place on Saturday 16 April due to Easter closure.
---
Programme Outline:
Each week an experienced woman author will read from their work which illuminates the Northern experience and will talk about the inspirations that fired their piece. There will be a short Q&A and in the remainder of the session, Fiona will facilitate practical writing exercises based on discussions and inspiration from the featured writers' work. The writing exercises are to generate new work or to help you continue with work in progress.
In week 6 there will be the opportunity to share your work (optional) with your fellow participants in an end of course showcase community.
Week One: 26 March Michelle Gallen, Co. Tyrone
Week Two: 2 April, Olivia Fitzsimons, Co. Down
Week Three: 9 April, Sue Divin & Cathy Carson, Co. Armagh and Antrim/Belfast
Week Four: 23 April, Maria McManus, Fermanagh
Week Five: 30 April, Freya McClements,  Derry
Week Six: 7 May, End of course showcase
---
Programme Outcomes:
The Northern Soul Roadshow community will be an informative and practical forum for writers. By the end of the programme, participants will have met and discussed various aspects of writing with experienced authors, completed new work and/or developed works in progress, and given readings (optional) to their fellow participants.
Participants will be encouraged to continue their writing community after the course.
---
Fiona O'Rourke's stories have been published, broadcast, and translated. Her first published story, Wrong Whiskey, a Troubles fiction, was a prize winner at the Fish International Short Story Award and was included on a student reading list at Saint Mary's College, California. Her debut novel Have You Found Luke? also a Troubles fiction, was a winner at the Irish Novel Fair 2016, and other Troubles fictions have been published in Sonder and translated for Troquel Revista de Letras. Since earning an MPhil in Creative Writing (TCD, 2015), she has facilitated creative writing communities and provided mentorships for writers. She is a member of Women Aloud NI and a professional member and mentor with Irish Writers Centre.
Sue Divin is a Derry based writer, with Armagh roots. With a Masters in Peace and Conflict Studies and a career in Community Relations, her writing often touches on diversity, reconciliation, borders and the legacy of the Troubles today. Her début novel, Guard Your Heart (Macmillan 2021), has been described as 'Profoundly powerful, subtle and effective' (The Guardian), 'Outstanding' (Irish Examiner), 'A deeply affecting, powerful book' (Irish Independent) and 'Compelling' (Irish Times). It is listed for the Yoto Carnegie medal. Her short stories and flash fiction have been published in The Caterpillar, The Cormorant, The Honest Ulsterman, The Bangor Literary Journal and Splonk. Her second novel, Truth Be Told, will be published in April 2022.
Olivia Fitzsimons is from Northern Ireland and now lives in Wicklow but never lost her accent. She studied History at Trinity College Dublin and Rijksuniversiteit Groningen, Netherlands. The Quiet Whispers Never Stop is her first novel and was an Irish Writers Centre Novel Fair Winner in 2020. Her short stories have been placed or shortlisted in many competitions including the Sunday Business Post/Penguin Short Story Prize and The Benedict Kiely Short Story Award. She has two feature films in development and is currently working on her second novel.
Maria McManus' poetry collections are Available Light (Arlen House), We are Bone, The Cello Suites and Reading the Dog (all Lagan Press). Ellipses is published as a limited-edition hand-made pamphlet (Coast to Coast to Coast, 2021). Collaborations for choral wind and string ensembles include ELLIPSES and WRETCHES with Keith Acheson and Tierra Sallada with Martin Devek. Dance theatre and film collaborations include BIND, EPILOGUE, DUST and TURF with Eileen McClory and Conan McIvor. Maria is a founding Artistic Director of Quotidian – Word on the Street, which includes Poetry Jukebox.
Cathy Carson is a writer and spoken word performer from Co Down. She has performed for festivals, charity events, radio, podcast and television. Her work focuses on human connection and condition. She has been published in anthologies and will release her first poetry pamphlet with Hedgehog Press. She has recently completed her first one woman show which addresses issues of domestic violence and homelessness.
Michelle Gallen was born in Northern Ireland in the mid-1970s and grew up during the Troubles a few miles from the border between what she was told was the "Free" State and the "United" Kingdom. She studied English literature at Trinity College Dublin, then survived what doctors now suspect was autoimmune encephalitis in her mid-twenties. Her debut novel, Big Girl, Small Town was shortlisted for the Costa First Novel Award. She now lives in Dublin with her husband and kids.
Freya McClements is a writer and journalist. She is Northern Editor with The Irish Times and co-author of the award-winning Children of the Troubles: The Untold Story of the Children Killed in the Northern Ireland Conflict (Hachette, 2019).
---