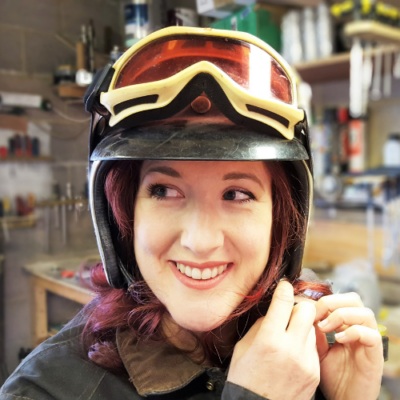 Travel Writing with Lois Pryce
Info
Date: June 21, 2023
Time: 6.30 pm - 8.30 pm
Duration: 4 Weeks
Level: Beginner | Emerging |
Cost: €120 (€108 Members)
Online or In-Person? Online
Course Summary:
Travel writing is by its nature, constantly evolving, and the 21st century poses more challenges – and opportunities – for the genre than ever before. In this course you will learn the nuts and bolts of writing a great travelogue, while also making your story relevant to the world around us. Participants will come with a travel writing project in mind and will work towards creating a polished 1200-word piece of writing. The course will be delivered in a conversational style, interspersed with exercises and readings to encourage discussion and create a supportive group environment.
---
Course Outline:
Week 1: The Big Picture: What is your story really about? And how do we make the reader care about it? We will look at ways to weave your personal travel story into a wider narrative and connect your experiences with universal themes. We will also discuss different ways to structure your story, how to plan it out in advance, and why it helps to know how your story is going to end – before you start!
Week 2: Finding the Balance: Travel writing is a delicate blend of ingredients – the real-time events of the journey, your motivation, observations and feelings, the people you encounter and their experiences, the background, history and politics of the location – all while bearing in mind your 'Big Picture'. We will look at how to incorporate all of these aspects without losing the flow of the story or getting bogged down in 'info-dumps'. We will also discuss the pacing of your story, where to 'zoom in' and 'zoom out', what details to include, and most importantly, what to leave out.
Week 3: Bringing your Story to Life: This session will look at how to plunge your reader into the action and make them feel as if they are right there, on the road with you. As in fiction, it is the human element that forms the heart of a great travelogue, and we will learn how to write memorable characters and authentic dialogue to make an emotional connection with the reader. We will also discuss using all five senses to create vivid descriptions and how to invoke a powerful sense of place that fully immerses the reader in your location.
Week 4: Writing IS Rewriting: This was one of Hemingway's truest statements! Getting your first draft down is just the start of it. The real work – and the magic dust – comes in the edit. We will look at ways to tighten your prose and make sure your story stays on track. By the end of the session you will be able to see the effects of all your careful polishing in your own piece of writing that you have been working on throughout the course. Finally, we will discuss and create a reading list of our favourite books on the craft of writing.
---
Course Outcomes:
Throughout the course you will use the techniques discussed each week towards a 1200-word travel story. In the final session participants will be encouraged (only if they wish!) to read their work aloud and offer constructive feedback to each other.
---
Lois Pryce is an author of three books about her solo adventures in far-flung lands that have been published throughout the world. Her latest book, Revolutionary Ride, about her travels in Iran, was named a Book of the Year by National Geographic Traveller Magazine and shortlisted for the Edward Stanford Travel Writing Award. Dervla Murphy described it as 'a satisfying blend of action, thought and feeling.'
Lois is also a judge for the Edward Stanford Travel Writing Awards, a Fellow of the Royal Literary Fund, and a tutor of non-fiction at the Arvon Foundation.
---