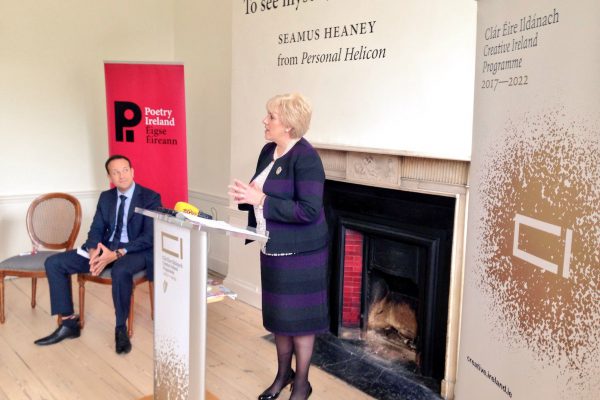 12 June, 2017
Irish Writers Centre Welcomes New Writers' and Artists' Social Welfare Initiative
The Irish Writers Centre welcomes the launch of a new pilot initiative which will acknowledge the professional status of writers and artists applying for Jobseeker's Allowance. The pilot was launched today Monday 12 June by Minister for the Arts, Heritage Regional, Rural and Gaeltacht Affairs, Heather Humpreys and Minister for Social Protection, Leo Varadkar in Poetry Ireland on Parnell Square. 
The pilot is being developed in partnership between the Department of Social Protection and the Department of Arts, Heritage Regional, Rural and Gaeltacht Affairs, as part of a key commitment to artists under the Creative Ireland programme. The Irish Writers Centre and Visual Artists Ireland have been invited to facilitate the one-year pilot scheme and are approved to certify the professional status of writers and artists through their respective professional membership schemes.
Valerie Bistany, Director of the Irish Writers Centre has said of the pilot scheme;
'The recognition of the professional status of working artists at state level is a welcome development for the whole of the Irish arts community. The Irish Writers Centre has been supporting the interests of writers for over 26 years and we're glad that professional writers' membership will now be accepted as valid proof of professional status. Like other self-employed professionals, Irish writers tend to earn their income from a variety of sources, and similarly, during lean periods in their careers, they may need to seek state support.
The pilot scheme is important in acknowledging the status of writers on an equal basis to any other self-employed professional, and recognises their economic contribution as well as their cultural impact in Ireland. Ministers Humphreys and Varadkar are to be applauded in taking swift and decisive action in implementing an important commitment made to artists under the Creative Ireland programme. We'd also like to thank the staff in both departments for the opportunity to explore and devise the pilot with ourselves and the VAI. We hope that, in time, this will be seen as a landmark initiative for artists in all disciplines and that the scheme will be expanded to other art forms.'
The scheme will run on a pilot basis for one year, during which time it will be monitored and assessed for development and expansion.  During this time, the Irish Writers Centre will continue the conversation with both departments to ensure that writers' interests remain central, particularly in respect of promoting better income generating opportunities for writers.
The scheme requires that writers and artists who wish to be recognised as professional fulfil specific criteria including demonstrating proof of paid work, publications and awards, among other factors. Writers wishing to inform themselves of the criteria can look at our website under Professional Membership.
Upon being confirmed as a Professional Member, the Irish Writers Centre will provide any requesting writer with a certificate which can be presented at their local social welfare office as evidence of their professional status. This certificate will facilitate their claim, and they can evidence their search for employment by producing applications for literary endeavours, which will be recognised as legitimate forms of job-seeking.
It is important to note that there are no changes to the eligibility rules nor the conditions for applications for Jobseeker's Allowance. 
CONTACT: Kate Cunningham, Communications & Events Officer, Irish Writers Centre
t: +353 (0)1 872 1302 / 087 259 8026 | e: events@writerscentre.ie