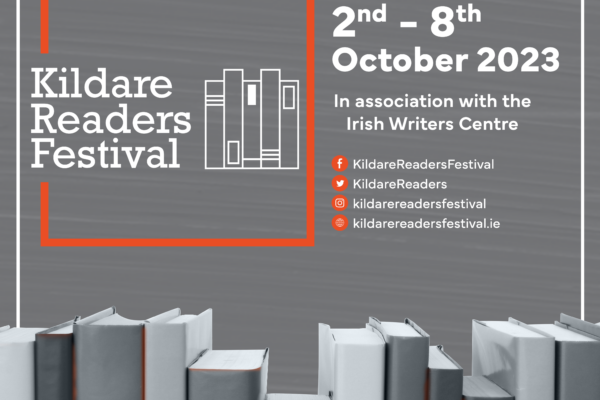 07 September, 2023
Book your tickets for Kildare Readers Festival 2023

Kildare Readers Festival 2023
In association with the Irish Writers Centre
We are excited to let you know that Kildare Readers Festival is returning this Octobor in venues across the county from Monday, 2nd October to Sunday, 8th October 2023.
Launched by Kildare Library & Arts Services (in association with the Irish Writers Centre), Kildare Readers Festival connects readers with authors and artists through exciting, innovative and accessible events and workshops. We look forward to welcoming audiences for regular favourites such as Ten Books You Should Read and the Sunday Session. Dermot Bolger will this year speak with poet Michael O'Loughlin and soprano Judith Mok.
Oein DeBhairduin will be giving us an exclusive preview of his book Twiggy Woman in Celbridge Library. Kathleen Murray will chat to Ed O'Loughlin about her debut novel The Deadwood Encore described as 'the Coen Brothers of Carlow.' Fresh off the back of winning the Shirley Jackson Award for her novel Where I End, Sophie White will be in conversation with Rick O'Shea. Katriona O'Sullivan will discuss her memoir Poor, which recounts her journey from poverty, teenage pregnancy, homelessness to graduating with a PhD from Trinity College Dublin and becoming an award-winning lecturer whose work challenges barriers to education.
We'll be joined by Kildare author Murt Malone, Lynn Buckle, John MacKenna, Enda Wyley, Tadhg Mac Dhonnagáin, Annemarie Ní Churreáin, Nithy Kasa, Catherine Gander, Katherine O'Donnell, Declan Toohey and more.
The full programme of events and participating venues for Kildare Readers Festival 2023 is available on their website.