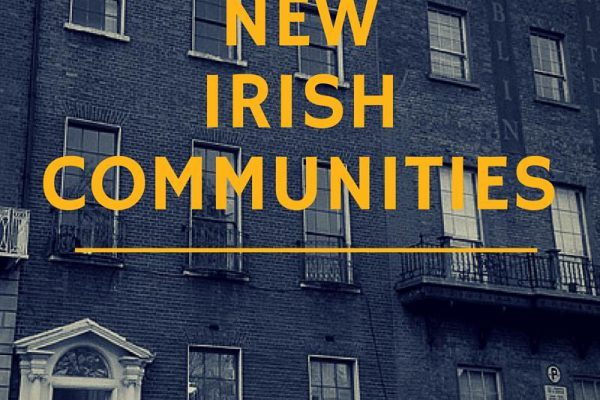 03 October, 2017
Life is very grey when I am not telling stories – New Irish Communities
Writing has always been part of my life. Introverted, I was mostly bored at school, sitting at the back of the class in Salvador city, Brazil, making up my own stories. My best friends were the journals I kept.
When the time came to choose a profession, I wanted to be a pen for hire. So I became a journalist, a job that I embraced for a couple of decades, along with my work in Public Relations.
I travelled to Ireland in 2010, and what was intended as a one-year sabbatical became a seven year stay, and counting.
I was determined, but paid a price. I couldn't get a writing-related job as my English wasn't fluent enough. Alarmingly, the more my English improved, the more my Portuguese went downhill. So there I was, scared that I would end up with no decent language at all.
Thankfully, I gave up being afraid and took charge of the situation at some stage. Step by step, I managed to work my way back into my chosen field, writing for sites and blogs as a freelancer, though only in Portuguese.
I had already attained the highest level available on an ESL course and my IELTS exam results were excellent. But I had no confidence that I could write professionally in English.
That was when I heard of the New Irish Communities writing course. Joining it gave me the opportunity to share my writing and learn from people who were struggling with the same issues I was. And it got me back to the habit of writing almost daily. And not only journalism, but fiction.
When our facilitator, Mark Granier, remarked that my writing level was not too different from certain college students he'd taught I was delighted. Yes, I had one complete degree, one half degree and an MBA under my belt, and I wanted to do better than that. But I had been too hard on myself. I wasn't a lost cause.
After a while, I started applying for writing jobs in English. And one of my proposals was eventually approved. I took it as if it were an intern experience, but the agency was happy with my articles. So I kept applying for more work, and now I create content in both languages for my clients.
I am not yet near my goal, and dealing with two languages can be disorienting. There are times when I feel that it isn't me who is talking or writing, and I wonder if my English-speaking friends really know who I am.
It can be very frustrating when I want to convey a thought but can't find the right word, or when native speakers just tell me that I shouldn't worry about it. I don't want to be fairly understood; I want people to really get how I feel.
On the upside, it is very exciting. I learn something every day. And when I discover a new word, phrase or idiom that expresses precisely what I want to say, or a funny and catchy equivalent to one of my granny's favourites proverbs, it puts a smile on my face.
I have also learned to accept that my writing and speech in Portuguese will never translate perfectly into English. As with any two languages, the context, culture, and medium are not equivalent. Moreover, I am a new person and so is the way I use language.
And attaining the highest standard doesn't matter as much as it used to be. As long I am writing, in either language, I am happy. Life is very grey when I am not telling stories.
Lucy Damasceno is a content writer and member of the New Irish Communities group at the Irish Writers Centre. New Irish Communities is a writing group for writers writing in English as a second language led by Mark Granier and Tanya Farrelly. Find out more about the group here.