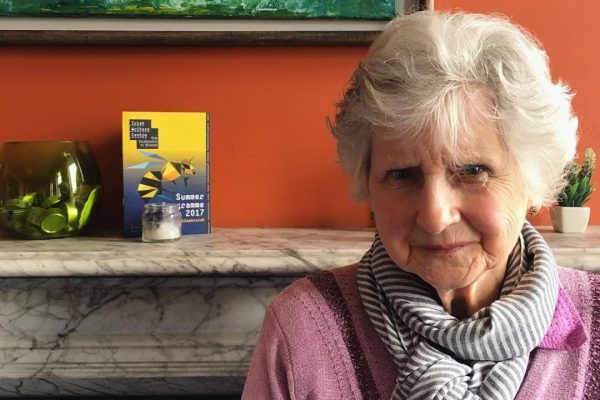 14 September, 2017
In Memoriam – Elizabeth O'Carroll
We were very saddened to hear of the sudden passing of one of our beloved IWC members Elizabeth O'Carroll, a founder member of the Bealtaine writers' group.  The group originated in a series of workshops offered by the Irish Writers Centre and Age and Opportunity as part of the Bealtaine Festival celebrating creativity in older people in May 1999.  She taught creative writing and was also published in various publications, including two Bealtaine Writers Poetry Anthologies.
A former teacher, born in County Armagh, she is the mother of six and grandmother of eleven, and was an avid and engaged gardener, painter and poet. Kindness was one of her strong attributes and she was always so generous with her time and energy; she was interested in others and loved being with them.
The entire IWC team will miss her coming in to the office with her stories, bearing with her home-grown flowers – and when she was away, her postcards from far-flung places. She made a huge impression on us all and will be much missed.
Here are some words from Elizabeth,  who earlier in the year was one of our subjects for Humans of Number 19:
Below is one of Elizabeth's poems which was selected as Poem of the Week for the RTE website in July of this year.
Mill Jiggers
Down boreens, loanens, over sheoughs,
stiles, they walked or ran
to be on time for the man who drove them
waited in groups
standing in heat, rain spit, frost bite,
teeth chattering, tongues clattering,
headscarfs anchored curls, covered ears
kept their wee heads warm
mill jiggers from 13 years onwards,
press ganged into work,
money the imperative,
help mammies rear the bairns.
The lorry van trundled, rattled to
the mill, where they tumbled out to work,
a 13 hour day,
a harsh reality of noise, dust,
hammer click, machinery clack,
standing in water up to knees
linen sticks or "stoves" had to be kept moist,
breakages would corrupt the measure.
Auntie Lizzie worked it, breathed it, wove it,
a cog in the industrial wheel,
as her "betters" pranced, swaggered, lounged, swanked,
admirers "ooed" and "aahed"
at the hang of it, the style of it,
children, women, bent beyond their years,
wizened into crumple, harsh voiced, fetish,
arthritic ankles, jellied legs, knuckled knees,
Dust filled lungs, TB, death.
A pinny wrapped, weave-wrap,
Waspish drudgery.
Elizabeth O'Carroll