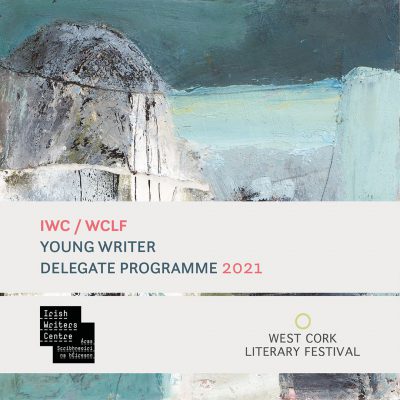 Residencies, Retreats & Opportunities
IWC/WCLF Young Writer Delegates Programme 2021
Info
Date:
September 7 – October 12, 2021
Deadline:
June 21, 2021 at 5:00pm
We invite ambitious young writers aged 18-26 to apply for this extraordinary opportunity to attend and contribute to West Cork Literary Festival as IWC/WCLF Young Writer Delegates.
---
Programme Description
Now in its fourth year, the IWC Young Writer Delegates Programme is intended to give young writers an opportunity to immerse themselves in a literature festival, soak up the atmosphere and to contribute to it as active participants. The selected four young writers will be given festival passes, a chance to perform at a creative showcase and a week full literary immersion in West Cork Literary Festival events.
During the festival period, they will be supported by an IWC facilitator and local writer mentor to reflect on the festival programme and their experience in it, and to share their views via WCLF and the IWC's social media platforms. The Young Writer Delegates activities during and after the festival include writing an event review, posting on social media, working on a new piece of creative writing, and a report on their experience.
Full information on this year's West Cork Literary Festival programme will be available here.
---
Eligibility
This programme is open to writers aged 18-26 living anywhere on the island of Ireland with strong interest in writing, reading and an ambition to connect with and contribute to the Irish literary scene. We will be allocating a minimum of two places for writers from outside of the Dublin area. We encourage young writers from backgrounds typically underrepresented in Irish literature to apply. We particularly invite applications from Black, POC, Traveller, Roma, LGBTQIA+ and working-class writers. We will place a strong focus on ethnicity, race, gender, sexuality and socioeconomic status when evaluating the applications for this opportunity.
---
Please Note
This year's WCLF festival will be taking place online, with all events and meetings with the elected mentor going forward via zoom.
---
How to Apply
You will need to send:
A short cover letter including home postal address saying clearly and concisely why you would like to be selected as a Young Writer Delegate and how you think you can contribute to the festival using social media or other platforms to draw attention to the festival.
A Curriculum Vitae (max. two A4 pages) including any written work which may have been published online or in print.
Two differing samples of work (max. 500 words each)
Applications from Irish language writers should be bilingual
Compile ALL of the above into a single attachment in Word or PDF and send to projects@writerscentre.ie. Incorrect formatting will disqualify. Applicants will receive an acknowledgement upon receipt of applications.
---
Criteria for selection
Eligibility – Participants must be resident on the island of the Ireland for a period of not less than two years.
Intent – the cover letter expressing the applicant's intent and reason for taking part is key in informing our decisions.  Be sure to tell us your ideas on how your presence as a delegate will add value to the festival.
Quality of writing samples
Geography – we are seeking applications from all over the island.
Incomplete or late applications cannot be not considered.
---