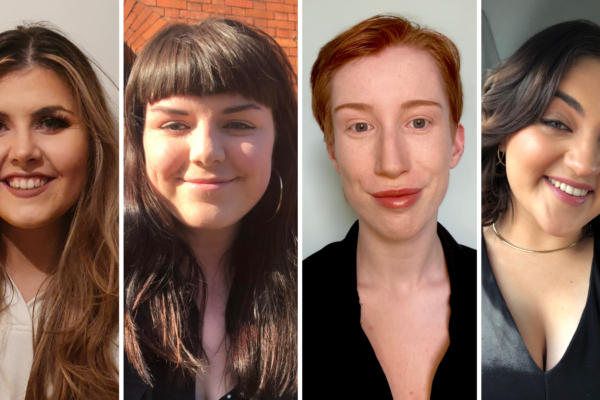 22 November, 2022
Our Young Writer Delegates look back on Dublin Book Festival 2022
Earlier this month, writers, readers and book-lovers from far and wide attended the Dublin Book Festival 2022, which took place from 8-13th November in venues across the city. Among the attendees were our IWC/DBF Young Writer Delegates, Eva-Marie McNamee, Ellen Duggan, HK Ní Shioradáin, and Annie Brown. Here is what they thought of the experience.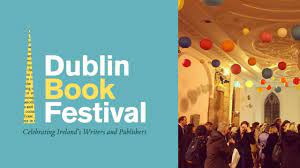 RTÉ Radio One Arena at the Hugh Lane Gallery: Review by Eva-Marie McNamee
Hosted by Seán Rocks from RTÉ Arena, this event marked the opening of the Dublin Book Festival, with a range of speakers and live music taking place over the course of the evening.
The celebratory feel was tangible from first entering the beautiful gallery, located right beside the Irish Writer's Centre on Parnell Street. Seated in a marble hall, the audience were surrounded by various paintings and busts of illustrious literary figures, which served as the perfect setting as we began immersing ourselves in the culture of the festival.
Seán was joined by the wonderful Wendy Erskine and Louise Kennedy, two writers who have been making real waves in the literary scene for a while now. Both women have intertwined their Northern Irish upbringings into their work, but in vastly different ways. Seán did a fantastic job at encouraging a really fruitful conversation around what it means to be a writer from Northern Ireland, and the connotations and expectations that may come with that. Erskine commented on the positives she had found with representing voices that have, in the past, been somewhat invisible in literature. She also highlighted the flip side of writing about somewhere as distinctive as Northern Ireland, how she tries to veer away from local colour literature and focus on the more universal aspects of her characters' lives, such as loneliness and isolation. Erskine describes a balancing act with her writing, of acknowledging how the unique events in Belfast will have shaped the people that inhabit her stories, but also championing the very human responses to living through such an upbringing. Louise commended Anna Burns' 'Milkman' for looking at the Troubles from a fresh perspective, and how that has subsequently led to agents and publishers piquing interest in Northern Irish literature.
The conversation with both writers revealed how there is definitely a certain responsibility when representing narratives that have notoriously been neglected in the past, but there is no necessity to focus one's writing on certain topics. It is not incumbent for an author from a particular place to deal with politics in their fiction, and in the cases where a writer chooses to do so, it is solely up to them how the piece will engage with the subject matter.
The evening then moved on to a live set by the fantastic John Francis Flynn. Again, the gallery proved to be a great space for his act, with the high ceilings and stone walls providing the ideal acoustics for John's folk songs and multi-instrumental set.
Finally, Jessica Fahy, RTÉ's visual arts guide and expert, talked the audience through the paintings hung around the room and the literary significance of each paintings. Although we were celebrating a literary festival, the evening served as a fantastic reminder of the cross functionality of art and how culture so often transcends mediums. The audience exited the event with a real sense of the creativity and conversations that could be expected over the remainder of the festival.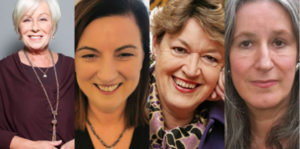 Irish Women's Speeches in Two Volumes: Review by Ellen Duggan
On Tuesday, the 8th of November, the Dublin Book Festival began in the portside setting of the Dun Laoghaire Rathdown LexIcon library and cultural centre. Passing through the interiors collection whilst catching a glimpse of the stained glass window that hangs above the stairs as we dipped down to the theatre at the ground floor – visitors of the event could not help but find the journey representative of the point of celebration for the evening: Sonja Tierney's Irish Women's speeches volumes I and II, with the plunge into our history resurrecting unexplored, or forgotten moments of splendour.
Seated before the audience were; Catriona Crowe, Eilish O'Carrol, Nora Owen and Sonja Tierney, each bringing their own personal history and individual points of interest to the topic at large. The recitation of selected speeches by the four women brought forward the impressive prowess performed language may have over an audience- prowess that, though these speeches were removed from the political climate during which they were written and read- still could be appreciated as progressive works of literature. Such splendour was mirrored by our four resident speakers, who each spoke with eloquence and vivacity about the women included within Sonja's texts, who had carved out space in the framework of the political, oral and literary tradition.
A welcome visual dimension was added, when a recording of Limerick's former Lord Mayor Frances Condell's Welcoming speech to JFK was displayed, a speech that Kennedy later described as being the best he had heard throughout the entirety of his European trip. Tierney's anthologies, both I and II, do not neglect Irish women in History who found home elsewhere, such as actress Maureen O'Hara, as well as trade union activist and suffragette, Margaret Hinchy and director Siobhan McKenna to name but a few. Tierney's previous novel, Eva Gore-Booth: An Image of Such Politics, 2012, solidified her position both within and outside of an academic context; as a writer compelled to dismantle and investigate the previously uninvestigated. Her novel Eva Gore-Booth, was the first to exclusively feature the poet and activist, and her current novels centring around Irish women's speeches, are also the first to delve into this particular arena – hopefully creating the cultural ripple effect of further celebrating the women of our history.
Such an effect could be seen in the evening, as Eilish O'Carroll read out the rousing speech made by her mother and former labour politician, Maureen O'Carroll, calling for regulations on illegal
adoption in Ireland, Nora Owen speaking about her previous role as Minister for Justice and Sonja speaking about the Academic research that led her to begin Irish Women's Speeches. Although all speeches read at the event, were read within a different era, met with a different audience and a different reader than their original intention- the gravity of their effects were not impacted, leaving the audience to understand that oratorical literature holds its own weight without performance, and that read separated from an audience, Irish Women's speeches still proves to be a
rousing, motivational and touching exploration of gender politics and language throughout our long and varied history.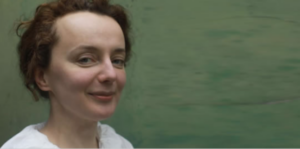 Sketching Walking Tour with Renata Pekowska: Review by HK Ní Shioradáin
On the Friday of Dublin Book Festival, I met for a lunchtime sketching tour of Dublin Castle with Renata Pekowska. Beginning in the museum in the Chester Beatty, we made quick sketches of some of the paintings on display to wake our artistic minds. Sketching someone else's work, Renata said, was a great warm up as they had already done the tough work of composition. We then made our way out of the museum and sketched various areas in the grounds surrounding Dublin Castle, from encompassing landscapes to the minute details of individual leaves and flowers. With each location, Renata brought wonderful insights into her choices of location and brought an excitement to the possibilities of capturing these spots in our sketches. Renata spoke about composition, drawing materials, and the philosophies of sketching while simultaneously giving great insight into different drawing techniques and providing useful tips.
Sketching each location forced us to really see what we were looking at, something we often miss in our technology obsessed lives. The small group size of this tour lent itself to an intimate experience where us participants felt a sense of connection to each other as we sketched. Though we sketched the same landscapes, everyone produced vastly different perspectives on it, a gentle reminder that we as humans all see the world differently.
This hour and a half was not a literary filled or book orientated event as I would have expected from a Dublin Book Festival event, and though it linked into book illustration, this event was much more than that. This event brought a new dimension to the festival, reminding us of the importance of carving out time for mindfulness in our days. May it be known that I am in no way a visual artist and though I was somewhat nervous joining this tour, I was quickly put at ease as Renata's enthusiasm and approach to her artistic practice. As a writer, this was a delightful event to dabble in a new artistic medium, to realise how much art can inform our writing. As book lovers, we often get lost in the make-believe worlds of books that we forget to look up and see how beautiful our real world really is. This sketching tour enabled us to do just that.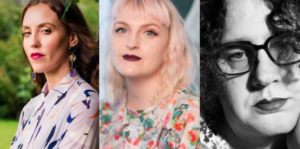 Louise O'Neill and Sophie White in conversation with Aoife Martin: Review by Annie Brown
On Friday the 11th of November, in a stylish, newly developed event space in Dublin's Windmill Quarter, I took my seat at the event I had been waiting for since I received the good news that I would be attending the Dublin Book Festival as a Young Writer Delegate: Sophie White and Louise O'Neill in conversation with Aoife Martin. I was brimming with excitement for this event for a couple of reasons. Firstly, Sophie White hosts one of my favourite podcasts, The Creep Dive. The chance to be in the same room as a certified Creep was one I simply could not pass up. Secondly, Louise O'Neill has been an author with a special place in my heart for a long time. As a teenager, I read her Young Adult novel Only Ever Yours, and it had a lasting effect on me. The detailed world-building, the dystopian feminist tone of the novel – it spoke to me then, and it speaks to me now. And finally, the inimitable Aoife Martin. An incredible speaker with a depth of wit and intellect, her weekly column in The Journal never fails to be insightful and thought-provoking. It seemed as if the team at Dublin Book Festival sat around a meeting table and said, "Let's create an event that Annie Brown would fall over herself to attend" – and I did. I was almost an hour early.
The conversation kicked off with both White and O'Neill describing their latest books, Where I End and Idol respectively. At this stage, I hadn't had the pleasure of reading either, but the authors' descriptions had me enthralled. Idol seemed like a departure from the books I would normally choose, but I devoured the novel in one sitting after the event. O'Neill expertly creates these grotesque worlds of containment that remain endlessly relevant to the present-day experience of women; and hearing her speak about how the inspiration for this novel came from lockdown-induced discomfort with the increasing popularity of the Instagram-fueled "wellness industry" was fascinating. White's Where I End struck me as exactly my type of book – creepy, compelling, and dealing with themes of motherhood, daughterhood, and isolation. I finished this one in a single sitting, too. White is gifted, and one of the few contemporary authors who handles horror with the utmost respect and a deep-rooted understanding of what makes the genre so irresistible.
The highlight of the event came towards the end of the captivating conversation between the three women onstage, a conversation which touched on topics such as violence against women, victim-blaming, addiction, grief, and friendship. These conversation snippets were shrewd and engaging, and yet I found myself leaning closer to the stage when Martin asked both authors: "What is your writing process?". This young author was caught – hook, line, and sinker. White discussed her "murder wall" in her trademark darkly comic tone, the point in her writing process where all of her ideas are displayed side-by-side so she can start formulating the bigger picture of her story's plot. She also discussed Dan Harmon's Story Circle – a plotting device which I have since used and found extremely useful! O'Neill gave sound advice about writing every day and setting word count goals for herself – while she might be aiming for a daily 6,000 when it gets close to deadlines, I think I'll stick to a smaller count!
Overall, this event was everything I had hoped it would be. Both White and O'Neill were relaxed and confident in their answers to Martin's well-formed questions, and the discussion gave a lot of food for thought to myself and other audience members alike.