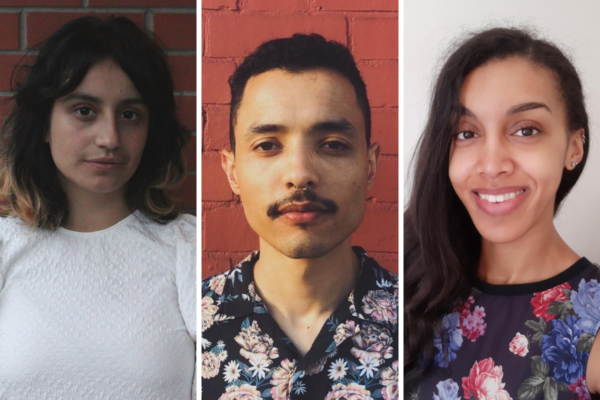 23 February, 2022
The Irish Writers Centre and Words of Colour Productions announce the awardees of UpLift, an international leadership initiative for 18-30 year olds
UpLift, a new pilot programme which aims to foster the leadership ambitions of aspiring professionals of colour in the literature sector across Ireland and the UK, is a collaboration between the Irish Writers Centre and Words of Colour Productions.
The programme seeks to help young literature professionals of colour to thrive within the sector, by encouraging connections among the awardees and facilitating development of their writing through guidance from seasoned industry professionals.
Three candidates based in Ireland have been selected to receive mentoring and workshops from established industry professionals. They are:
Gabrielle Fullam, Prin Okonkwo and Rafael Mendes.
Gabrielle Fullam is an Irish-Punjabi writer, theatre-maker and activist from Lucan. She is current editor of Icarus and Trinity Gender Minority Review. She is currently a Philosophy and Sociology student in Trinity College, and has conducted qualitative mixed-race research in Trinity College as part of the Laidlaw Undergraduate Research and Leadership Program. Her work centres on home, alienation and seeking and has won awards at The Irish Student Drama Awards.
Prin Okonkwo graduated from NUI Galway with an MA in Literature and Publishing in 2019. As an avid reader who knew she wanted to work in the book world, she kickstarted her editorial journey as an Editorial Administrator at The O'Brien Press in January 2020. She has taken part in Wonderfest 2020 and the West Cork Literary Festival 2021 as a panellist, offering aspiring writers some insights into how to get published. Being particularly interested in Children's and Young Adult literature, she hopes to continue working in the editorial side of publishing and help champion diversity and Irish writers of colour along the way.
Rafael Mendes is a writer and translator from Brazil who migrated to Ireland in 2016. He's currently completing a MPhil in Comparative Literature at Trinity College. His work has appeared in Writing Home: The New Irish Poets (Dedalus Press, 2019), Arrival at Elsewhere (Against the Grain, 2020) and elsewhere. His translation of Brazilian poetry has been recently published in Cyphers 91 and Trinity Journal of Literary Translation. He's a 2021 recipient of The Irish Writers Centre Course Bursary and of the Mentor/Member Programme.
Fullam, Okonkwo and Mendes will be mentored by award-winning writer and publisher Farhana Shaikh (The Asian Writer, Dahlia Publishing) and award-winning poet and director Nick Makoha (The Obsidian Foundation). The candidates will play a key role in encouraging writers and audiences of colour to participate in the Irish Writers Centre and contribute to the wider Irish literary scene. Three additional Irish candidates and six UK candidates have been selected to attend workshops with Farhana Shaikh and Nick Makoha.
The awarded workshop participants based in Ireland are;
Sinatalahi Badmus, Jinan Ashraf and Kebeh Ofem.
The awarded workshop participants based in the UK are;
Abdullah Adekola, Aoife O'Connor, Lucia Schiaffino, Zoe Mebude-Steves, David Edgardo Martinez and Urussa Malik.
Speaking of the Programme, Irish Writers Centre Director Valerie Bistany said;
"As we enter our 31st year in providing supports to writers of all types and talents, UpLift is particularly close to our hearts in contemporising our response and reach to include young writers of colour in Ireland and the UK, encouraging their participation in our literary community. Access and diversity are at the heart of our new strategy, soon to be announced, and which commits to supporting and uniting a vibrant and diverse community of writers and professionals. This pilot programme is particularly important in that it furthers our aim of breaking down the real and perceived barriers to writing and to literary engagement and ensuring equality of opportunity for those with aspirations in the literature sector. We are truly privileged to partner with Words of Colour to offer this unique development opportunity to young professionals of colour in literature."
Heather Marks, Words of Colour's Creative Producer, says:
"As a young professional of colour in the literature sector, I'm always keen to create opportunities for people like me to be supported in their entry to this field. Words of Colour is about making transformational change in our creative industry, and this pilot programme with the Irish Writers Centre is a small part of that. Nick and Farhana have a wealth of experience and knowledge that will break down many barriers for these young people and equip them with a strong grounding in themselves as up and coming literature professionals. I'm excited by our cohort and look forward to seeing what they do next following UpLift."
Stay up to date with all the latest opportunities from the Irish Writers Centre.