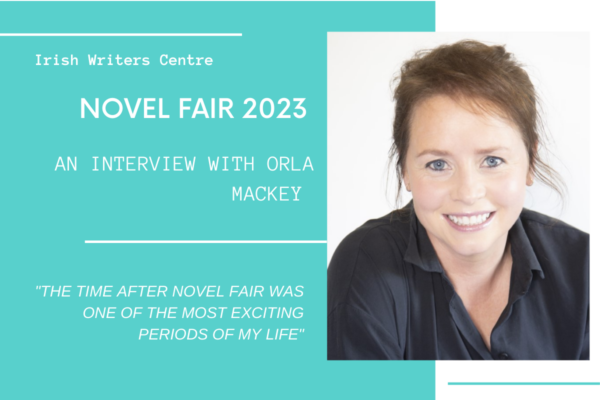 16 September, 2022
"The time after Novel Fair was one of the most exciting periods of my life." Interview with 2022 winner Orla Mackey
Novel Fair 2023 is currently open for submissions, with the deadline approaching on Friday 30 September. We discussed the competition with 2022 winner Orla Mackey for an insight into her journey.
Can you tell us a bit about yourself and about your debut Mouthing?
I'm a teacher and writer. I write fiction and educational texts for children. I first began writing stories and poems in 4th Class. I love listening to the rhythms of language, particularly the language of rural Ireland.  My writing is a celebration of the ordinary. In my spare time, I like to obsess over Edna O'Brien and eat chips. I dislike swimming togs.
Mouthing is a darkly humorous novel that represents the voice of ordinary working-class Irish people.  It's set between the 1960s and early 2000s. It follows the progress of twelve characters in a small village in Ireland. The title stems from the fact that the characters devote a fair amount of time to gossiping or mouthing about each other. Where I'm from, if you're mouthing about someone, you're not exactly singing their praises.
There are four groups of three characters and if I was to run through the whole cast and start listing off each of their neuroses, I'd be here for a week, so I'll just introduce the first set of three to give you a flavour.
Mona, Joe and Fr. Lennon open the novel. Mona is so tired of being controlled that she essentially takes the local Parish Priest, Fr Lennon, hostage so she can be the one calling the shots for a change. With Mona away 'working' for Fr Lennon, Mona's brother, Joe, becomes so lonely that he brings a cow into his living room for company. Eventually Joe has to be dug out of the house because of the build-up of cow dung and Mona has to be dug out of Fr Lennon's psyche because she has wormed her way into it and completely disturbed him.
Amongst the remaining characters we have everything from a man speaking from the grave to a woman who 'suffers with her nerves' and has a relentless addiction to Carry On films.
What was your experience of entering Novel Fair last year?
Novel Fair was the first real competition I'd ever entered. I can't explain how delighted I was to be chosen as one of the finalists.  I'm not going to pretend that the prospect of meeting with publishers and agents wasn't overwhelming at times, but the support from the Novel Fair team was amazing.  From the moment they first called, to the very last meeting on the Saturday, Betty and the Novel Fair team were there to answer questions and talk things through.  My fellow Novel Fair finalists were also a brilliant help when it came to preparing for the two days.  I was so nervous, I didn't believe anyone when they told me that the experience would be enjoyable but it was.  It was more than that.
How did you hear about Novel Fair?
I received the Tyrone Guthrie Bursary for Emerging Writers and as a result, I got to spend time at the fabulous River Mill Writers Retreat in Co. Down, run by Paul Maddern.  I met a previous Novel Fair finalist there who explained the competition to me and I decided to enter.
What was your experience of getting signed?
The time after Novel Fair was one of the most exciting periods of my life.  I had further meetings with interested publishers.  I had a few offers from agents.  I decided to sign with Nicola Barr from The Bent Agency.  Nicola is absolute brilliant.  I could never have hoped to find anyone as dedicated and experienced and expert as she is. She took over the process for me.  She listed my book as one of the agency highlights for London Book Fair.  She got the interest of Hamish Hamilton, a literary imprint of Penguin U.K and after a multi-publisher auction, I signed a contract.  Hamish Hamilton's authors include Arundhati Roy, Noam Chomsky, Zadie Smith and Ali Smith.  Joining such a list is the stuff of dreams.  
What's next for you?
I'm currently writing a novel about a second-generation undertaker.  The novel is set in the same rural village in Ireland as Mouthing.  I'm hoping that it will find a home with a publisher.  I'm also hugely looking forward to the day when Mouthing hits the shelves.