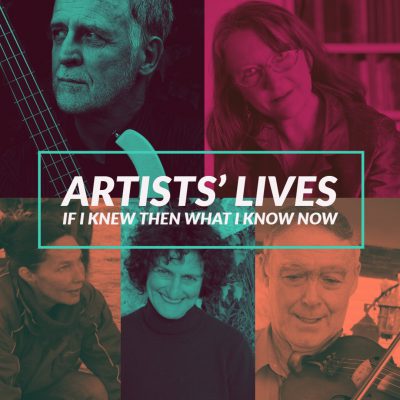 Artists' Lives: If I knew then what I know now…
Dates: 16 May 2019
Time: 2.30 – 4.30pm
Location: DanceHouse, Foley Street, Dublin 1. 
Tickets: Free Book here via Eventbrite
Join dance artist Joan Davis, traditional fiddle player Antóin Mac Gabhann, writer Éilís Ní Dhuibhne, composer and performer Ronan Guilfoyle, and visual artist Annabel Konig to discuss five significant and celebrated arts careers. Over the course of an afternoon, these inspirational artists will come together with Chair, RTÉ culture and arts producer Clíodhna Ní Anluain, to discuss the milestones, challenges and choices made by them as artists in Ireland. The event aims to offer an insight into the factors faced by many artists during their careers and to celebrate their ultimate success through talent and tenacity. As such, Artists' Lives will be of interest to those embarking on their own careers as artists in varied disciplines, experienced artists interested in hearing about different life-choices, pathways and pitfalls, and other wider publics interested in how artists live. Book your place for this free event by following the web link above.