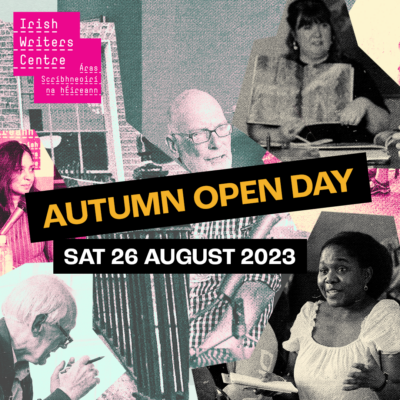 Autumn Open Day | Free Entry
The Irish Writers Centre (IWC) will once again open its doors for Autumn Open Day on Saturday 26 August!
Taking place inside our beautiful Georgian building on Parnell Square in Dublin, Autumn Open Day is a dynamic programme of free events that brings together anyone with an interest in books and writing through taster workshops, information sessions, writer-led panel discussion, and more.
Autumn Open Day is an opportunity to inform those interested in writing about the variety of services, programmes, courses, career support and resources available for writers at the Irish Writers Centre.
What to expect:
Free taster creative writing workshops*
Writer-led panel discussion on The Influence of Irish Folklore on World Literature
Professional Development Information Session
Novel Fair Information Session
Meet a selection of our creative writing groups and sign up
Free teas, coffees and biscuits
*Book on a workshop in timetable below
Timetable:
10.30 – 11.00: Welcome! Tea, coffee and biscuits plus an informal chat about the work of the Irish Writers Centre
11.00 – 11.45: New Irish Communities with Jean O'Brien. No booking required.
Get a taster of this open creative writing group for non-native English speakers who come together every Saturday during seasonal terms.
11.00 – 12.00: Fiction Writing Taster with Kevin Curran Register Here
12.00 – 13.00: Novel Fair Information Session and Q & A with IWC Programming Officer Betty Stenson Register Here
This information session will give you all the tools you need to confidently submit your own entry to this renowned writing competition.
13.15 – 14.15: Presentation on Professional Development for Writers with IWC Director Valerie Bistany Register Here
Find out all of the many and varied options available at the Centre to further your career as a writer.
13.30 – 15.00: Inkslingers Open Writing Group. No booking required.
The Inkslingers welcome newcomers interested in what happens at a writing group. No need to sign up in advance – the group welcomes walk-ins.
14.30 – 15.30: Taster: The Art of the Short Story with Pauline Clooney  Register Here
15.00 – 16.15: Writer-led panel discussion on The Influence of Irish Folklore on World Literature with Guest Speakers: Heather O'Neill, Adam Wyeth and Anthony Murphy Register Here 
---
Access our building
The Irish Writers Centre is currently housed in 19 Parnell Square, Dublin 1 which is a Georgian building and is not suitable for those with mobility impairments. There are 5 steps to climb to enter our building. The majority of the day's activities will take place in the Kiely room which is on our first floor and requires climbing up two flights of stairs (30 steps in total). There are public toilets available and these are located on the ground floor and basement floor. For further information on access to our building, please email: info@irishwriterscentre.ie.