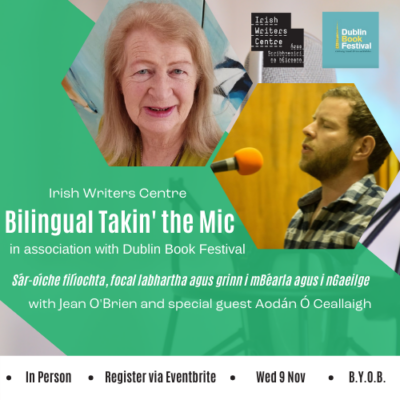 Bilingual Takin' the Mic with Jean O'Brien and Aodán Ó Ceallaigh
Please note that this event is suitable for those aged 18 and over.
We are delighted to open our doors for our annual bilingual Takin' the Mic in association with Dublin Book Festival. MC Jean O'Brien is joined by special guest Aodán Ó Ceallaigh for a fantastic evening of poetry and prose in English and Irish with an open mic with writers, poets and musicians. All welcome.
Tá Takin' the Mic ar ais go Áras Scríbhneoirí na hÉireann i gcomhar le Dublin Book Festival le hghaidh sár-oíche filíochta, focal labhartha agus grinn i mBéarla agus i nGaeilge. In éineacht le ban an tí Jean O'Brien, beidh Aodán Ó Ceallaigh ann mar aoi speisialta chomh maith le 'mic-oscailte' le haghaidh scríbhneoirí, filí agus ceoltóirí. Fáilte roimh chách!
---
House Rules
– Five mins per performer
– Slots are on a first come, first served basis
– Performers should sign up in advance via Eventbrite .
– Please note that the performers's list books up quickly, after that there is a waiting list.
– Donation tickets do not count as performance tickets.
Performers Registration (6 slots available for Irish language readers and 6 slots available for English or bilingual readers.)
---
Jean O'Brien has facilitated many creative writing workshops in places as diverse as prisons, schools, community groups and festivals and at post graduate level. An award winning writer she received a Kavanagh Fellowship in 2017/18. She was the Writer in Residence in the Centre Culturel d' Irelandais in Paris last November. She has six books to her name, her latest Stars Burn Regardless was published by Salmon Publishing in Spring 2022. She holds an M.Phil in creative writing from Trinity College, Dublin. Ireland.
Aodán Ó Ceallaigh is a sean-nós singer from Rinn Ua gCuanach in Waterford a well know sean-nós region. He has won various singing competitions at the Oireachtas and has sung at many festivals around Ireland and Europe.
Amhránaí ar an sean-nós, as Rinn Ua gCuanach ins na Déise, ceanntar láidir amhranaíochta, is ea Aodán Ó Ceallaigh. D'fhoghlaim Aodán a chuid amhráin óna chlann, óna sheanmháthair Pauline agus óna sheanaintín, Eibhlín ina measc. Tá dúaiseanna buaite aige ag Oireachtas na Samhna i gcomórtas na luibíní agus comórtaisí sean-nóis.
---