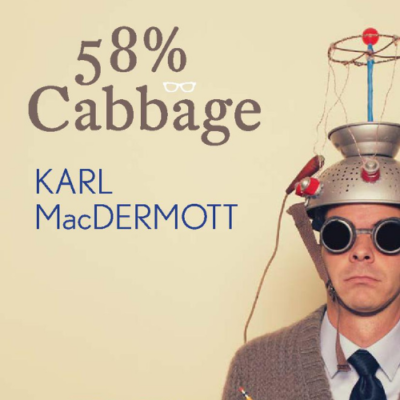 Book Launch: 58% Cabbage by Karl MacDermott
Three years after his critically acclaimed short comic fiction collection Juggling With Turnips, Karl MacDermott has written a humour fiction novel 58% Cabbage which has just been released by The Black Spring Press Group.

As there is limited capacity at this event, please email info@writerscentre.ie should you wish to attend. We would kindly request that visitors to the IWC building wear a face covering when moving around shared spaces.

---
58% Cabbage is about a sit-down nobody who tries stand-up comedy.
Roddy Bodkin is forty-three. He has recently lost his job. His long-term girlfriend is tiring of him. He feels he is getting old and life is passing him by.
Can things get any worse? Oh boy. Definitely. Yes. Because now, he thinks he can become a successful stand-up comedian.
Set in Galway, 58% Cabbage chronicles the hapless adventures of a middle-aged everyman as he grapples with both a sense of loss and a loss of sense while at- tempting to pursue his comedy dreams. Calamity and hilarity accompany Roddy Bodkin on his odyssey through funerals, sex, friendship, part-time employment, memory, family and Ireland.
---
About the Author
Former stand-up comedian Karl MacDermott, once de- scribed as 'the Gummo Marx of Irish comedy', is an Irish comedy writer. He has writ- ten for television and radio in both Ireland and the UK and is the author of two books of comic fiction. He is currently writer-in-residence in his home in Dublin. Find out more about him at www.karlmacdermott.com
---