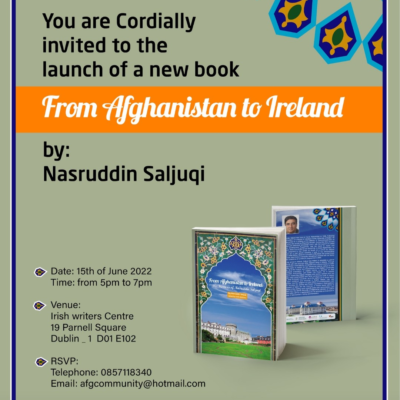 Book Launch: From Afghanistan to Ireland
Info
Date:
June 15, 2022
Time:
5-7pm
Location:
Irish Writers Centre
Price:
Free
As there is limited capacity at this event, please email info@writerscentre.ie should you wish to attend. We would kindly request that visitors to the IWC building wear a face covering when moving around shared spaces.
Join us for the launch of Nasruddin Saljuqi's latest book, titled: 'From Afghanistan to Ireland' which will be held in the Irish Writers Centre on the 15th of June.
---
The launch of Nasruddin Saljuqi's latest book, titled: From Afghanistan to Ireland will be held in the Irish Writers Centre on the 15th of June. Signed copies will be made available for purchase on the evening. During the launch there will be speeches from the book's editor Aoife McGrane, Dr. James Carr, Aoife Harte from UNHCR, NCP's CEO Cherif Labreche and Dr. Umar Alqaderi the chairman of Irish Muslim Peace & Integration.
Talking about the launch, NCP's CEO Cherif Labreche said "We are very excited to be supporting Saljuqi's latest work. The impact he has had both here in Ireland and Afghanistan becomes so clear throughout the book. It is a fantastic account of his journey and documents the remarkable memories along the way.  As a long standing member of NCP we are very proud of the important work Saljuqi has done and continues to do".
Nasruddin Saljuqi was born in Herat, Afghanistan in 1956. When the conflict of war forced him to leave Afghanistan, he initially emigrated to Iran where he worked for several years before eventually relocating to Ireland with his family. Since his arrival in Ireland, Saljuqi has helped to establish a cultural community with and amongst other Afghans in Ireland. He is the founder and chairperson of the Afghan Community and Cultural Association (ACCI), a member of New Communities Partnership, and Dublin City Forum.
Saljuqi is the author of 15 books which have been published and launched in Dublin, Britain, Iran and Afghanistan and the recipient of many awards including the Justice and Peace Foundation's Distinguished Ambassador of Islam and the Visionary of Peace Award (2010) in recognition of his sterling work towards justice and reconciliation, and an award from the Islamic Republic of Afghanistan Ministry of Culture and Information (2014) in appreciation for his activities and services in the areas of field research, writing and translation.