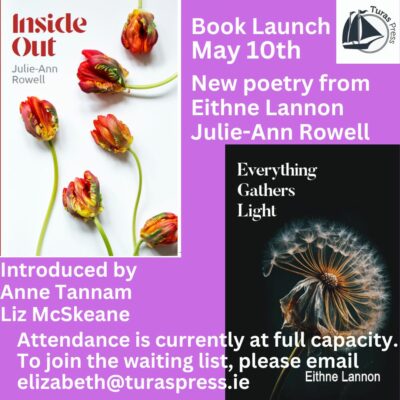 Book Launch: Inside Out by Julie-Ann Rowell and Everything Gathers Light by Eithne Lannon (Turas Press)
Info
Date:
May 10, 2023
Time:
6.30pm - 8.30pm
Location:
Irish Writers Centre
Price:
Free
This event is fully booked.
Attendance is currently at full capacity. To join the waiting list, please email elizabeth@turaspress.ie
Turas Press is delighted to announce the publication of two new collections from eminent poets, Eithne Lannon and Julie-Ann Rowell. This is the second Turas Press book from both writers. Eithne's début collection, Earth Music, was shortlisted for the 2020 Strong-Shine Award.
Everything Gathers Light by Eithne Lannon
Everything Gathers Light is a delicate and profound collection of poetry, beautifully crafted, from a poet at the height of her powers. In this exquisite new collection, the poet deepens her immersion in the themes of history, place and the natural world, as well as confronting the personal challenges of dealing with and accepting losses common to all human experience.
"Eithne Lannon's second collection, Everything Gathers Light, is a primer of discovery and revelation.  Anchored in the rivers and seascapes of North County Dublin, the precision of the language sets a spark of recognition that is universal, thereby reinforcing the sense that one of the primary ambitions of outstanding poetry must be to take the reader home."  Maurice Davitt
ISBN 9781913598464   Paperback 68 pages   Price: €13
Julie-Ann Rowell's Exposure (Turas Press, 2019) includes the poem Fata Morgana, Highly Commended in the Forward Prize Best Single Poem Category 2020.
Inside Out by Julie-Ann Rowell
Inside Out is a remarkable collection which offers a fearless account of an individual grappling with the physical, emotional and social challenges of living with chronic illness. FND – Functional Neurological Disorder – is a disorder of the functioning of the nervous system whose symptoms include a variety to physical, sensory and cognitive elements. The poet documents her journey from diagnosis through hospitalisation, discharge and eventual recovery. Inside Out is a moving and uplifting testament to the resilience of the human body and spirit.
"There is no special pleading here and no calling out for sympathy. The poet speaks in her own name but also speaks compellingly on behalf of other sufferers who would not have her stylistic and dextrous way with words. Incredibly, her riveting epic sweep through her troubles is leavened with humour."   Eamonn Lynskey
ISBN: 9781913598433  Format:  Paperback  92 pages  Price: €13
Books now available for pre-order from Turas Press and from our stockists from May 10th onwards.