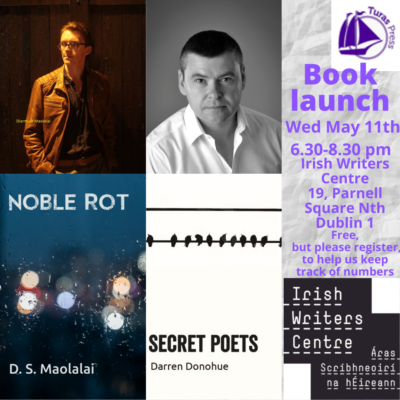 Book Launch: Noble Rot & Secret Poets
Info
Date:
May 11, 2022
Time:
6.30pm
Location:
Irish Writers Centre
Price:
Free
Join us for the launch of two books from Turas Press, "Noble Rot" by D.S.Maolalai & "Secret Poets" by Darren Donohue, at 6.30pm on Wed 11th May 2022. Note anyone interested in attending, email info@writerscentre.ie as limited capacity.
---
"Noble Rot" by D.S.Maolalai & "Secret Poets" by Darren Donohue
Noble Rot "There's a gorgeous vulnerability to the poems in Noble Rot. These poems, rich in variety and location, capture an accumulation of small moments and gestures that reflect back to us the inevitable progression of time. The down-to-earth language used throughout gifts the reader an intimacy. A full-bodied read, Noble Rot will have you calling for another, and another, round." Anne Tannam
This is Diarmuid's second collection with Turas Press and readers will be intrigued to see how he re-works certain themes from his last book, Sad Havoc Among the Birds with an eye on the joys and losses wrought by the passing of time – and introduces new themes. This is an exuberant collection from a poet whose voice is both original and compelling.
Secret Poets is "Wry, witty and surreal…Cosmopolitan in his sensibilities, and attuned to the complexities of Irish and international history, Donohue is an heir to greats such as Matthew Sweeney: poets who challenge us to look outside our narrow selves, and glimpse the world through fresh eyes." Jessica Traynor
Darren's poems explore the joys, loves and losses inherent in every life, his deep insights imbued with the flavour of his home place, the Midlands, which he evokes with great affection. The poems in Secret Poets convey the writer's immersion in the encounters and reflections of everyday life, while evoking the transcendence to be found in particular experience.