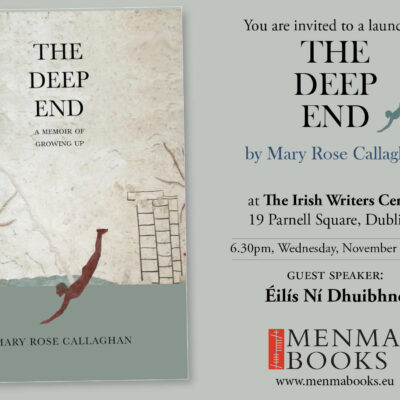 Book Launch: The Deep End by Mary Rose Callaghan

Book launch:
The Deep End by Mary Rose Callaghan (Memna Books)
Wed 1st Nov 2023, 6.30pm – 8.30pm
Guest speaker Éilís Ní Dhuibhne
Mary Rose Callaghan was shocked one day when she was 13 to see her asthmatic mother plunge into the freezing Irish Sea for a swim. This dive into 'the deep end' sparked a curiosity about her mother's life that led to this enthralling and poignant memoir of growing up in Dublin from the mid 1940's in a family that had fallen on hard times due to her father's illness. The Deep End focuses on Mary Rose's relationship with her flamboyant mother, which endured through her mother's descent into mental illness. In the end she realised that despite everything her mother left her one great gift for life.