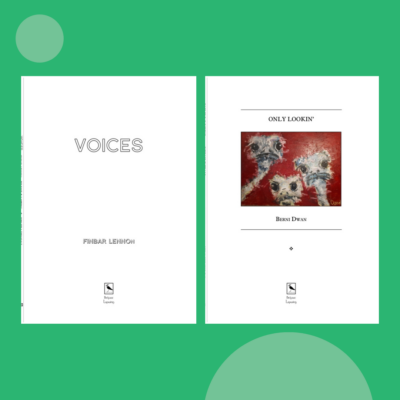 Book Launch: Voices by Finbar Lennon and Only Lookin' by Berni Dwan (Lapwing)
Info
Date:
March 29, 2023
Time:
6.30pm - 8.30pm
Location:
Irish Writers Centre
Price:
Free
Book Launch: Voices by Finbar Lennon and Only Lookin' by Berni Dwan (Lapwing)
A poetry and music event will happen in the Irish Writers Centre on Wednesday, March 29th from 6.30 to 8.30 to jointly launch the latest Lapwing poetry collections: Voices by Finbar Lennon and Only Lookin' by Berni Dwan.
Finbar Lennon is a retired surgeon, accidental author, and poet. He co-authored his late wife's memoir The Heavens are all Blue published by Hachette Ireland in 2020. VOICES is his third collection of poetry with Lapwing.
Berni Dwan
has two Lapwing collections, Frankly Baby, and Only Lookin'. She has had three stage productions in Smock 
Alley's
Scene + Heard Festival. Berni makes BAI-funded literary and historical radio programmes for Near FM radio.
Berni and Finbar have gathered a great line-up of MCs and guest artists.
MCs for the evening are:
Alan O'Brien – Award winning Dublin poet, playwright, actor, and singer.
Sean Ruane – Poet from Dunboyne, County Meath, where he teaches English.
Sean and Alan will steer the night in their own colourful way.
Guest artists for the evening are:
Patricia O'Callaghan, who has published two Lapwing collections, Starlings in 2005 and The Tailor's Shop in 2008.
Mary Oyediran, poet, Near FM broadcaster, and anti-racist campaigner.
Bridín Mary Harnett, poet, writer and educator, and graduate of the University of Leicester,
The proceeds from book sales will go to Oxfam's earthquake relief fund for Turkey and
Syria.