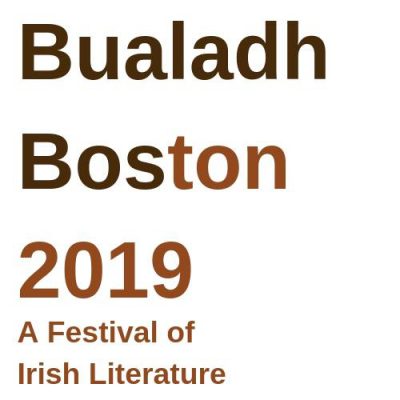 Friday 5 & Saturday 6 April 2019
In the Irish language, the phrase 
Bualadh
Bos
 is used to express applause. On 
Friday 5th
 and Saturday 6th April
2019
, the Irish Writers Centre, Poetry Ireland and the Consulate General of Ireland are delighted to present some of Ireland's finest contemporary writers in historic Boston, the capital of Irish America, in conversation with local champions of the Boston arts world for novel insights into Irish literature today.
Alice McDermott and Mike McCormack
Friday 5 April, 5.00pm
Harvard Club of Boston, Boston, MA
In this session, awarding winning novelists Mike McCormack and Alice McDermott will read from and discuss their recent work.
Alice McDermott's eighth novel, The Ninth Hour, was published by Farrar, Straus & Giroux in September 2017. Her seventh novel, Someone, 2013, was a New York Times bestseller, the National Book Critics Circle Award, the Patterson Prize for Fiction, and The Dayton Literary Peace Prize. Someone was also long-listed for the National Book Award. Three of her previous novels, After This, At Weddings and Wakes and That Night, were finalists for the Pulitzer Prize. Charming Billy won the National Book Award for fiction in 1998 and was a finalist for the Dublin IMPAC Award. She is the Richard A. Macksey Professor of the Humanities at Johns Hopkins University.
Mike McCormack is an award-winning novelist and short story writer from Mayo. His previous work includes Getting it in the Head (1996) and Forensic Songs (2012). In 1996 he was awarded the Rooney Prize for Irish Literature for Getting it in the Head and in 2007 he was awarded a Civitella Ranieri Fellowship. In 2016, Solar Bones won the Goldsmiths Prize and was BGE Irish Book of the Year, and in 2017 was longlisted for the Man Booker prize. In 2018, Solar Bones won the Dublin International Literary Award.
Peter Fallon and Aifric MacAodha
Saturday 6 April, 1.00pm
Harvard Club of Boston, Boston, MA
In autumn 2018, Poetry Ireland and The Gallery Press joined forces to publish Calling Cards, introducing a new generation of Irish-language poets to a wider audience.
Calling Cards is the latest in a distinguished line of Irish poetry anthologies and is edited by poets Peter Fallon and Aifric MacAodha. It includes 10 Irish-language poets, a carefully selected group of poems by each of them and translation into English by some of Ireland's finest poets.
Join Peter Fallon and Aifric MacAodha as they read poems and translations from the collection.
'a remarkable range of voices and dialects….this new anthology should be welcomed, purchased, read and celebrated'. The Irish Times
Mary Cregan in conversation with Catriona Crowe
Saturday 6 April, 5.00pm
Harvard Club of Boston, Boston, MA
Mary Cregan speaks to Catriona Crowe about her memoir The Scar: A Personal History of Depression and Recovery, a graceful and penetrating memoir interweaving the author's descent into depression with a medical and cultural history of this illness. At the age of twenty-seven, married, living in New York, and working in book design, Mary Cregan gives birth to her first child, a daughter she names Anna. But it's apparent that something is terribly wrong, and two days later, Anna dies—plunging Cregan into suicidal despair.
Decades later, sustained by her work, a second marriage, and a son, Cregan reflects on this pivotal experience and attempts to make sense of it.
Perceptive, intimate, and elegantly written, The Scar vividly depicts the pain and ongoing stigma of clinical depression, giving greater insight into its management and offering hope for those who are suffering.
Catriona Crowe is former Head of Special Projects at the National Archives of Ireland. She was Manager of the Census Online Project, which placed the Irish 1901 and 1911 censuses online free to access. She is a member of the Royal Irish Academy.
'What makes the book stand out is the sheer clarity of the writing, the personal fragility and the wrestling with demons emerging here with a kind of grace, a hard-won heroism."
Colm Tóibín
Bualadh Boston is brought to you by the Irish Writers Centre, Poetry Ireland and the Consulate General of Ireland, kindly supported by Culture Ireland, the Global Leadership Institute at Boston College, UCD, and the Irish American Partnership.