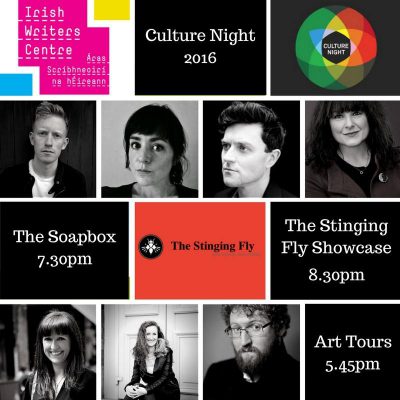 Info
Date:
September 16, 2016
Date: Friday 16 September




Time: From 5pm 




Location: Irish Writers Centre
Immerse yourself in literary fun for all ages at Parnell Square – brought to you by the Irish Writers Centre and The Stinging Fly.
Free Events
19.30–20.30: The Soapbox: see writers from all walks of life take to the platform for some old-school entertainment. Guests include:
Colin Barrett, Alvy Carragher, Gavin Corbett, Tara Flynn, Henrietta McKervey, Róisín O'Donnell and Dave Rudden. 
20.30–21.30: The Stinging Fly showcase:
– Lucy Sweeney Byrne (fiction)
– Kevin Curran (fiction)
– Julie Morrissy (poetry)
– Annemarie Ní Churreáin (poetry)
Free Tours
17.45–18.45: The Irish Writers Centre houses the exquisite and diverse FX Buckley art collection and we will be offering free tours with the curator himself, Frank X Buckley.
To attend this free tour please sign up via Eventbrite.
Free Workshops
18.30–20.00: Creative writing workshop with the Inkslingers writing group. Ever wanted to know what goes on behind the doors of a writing group? Now's your chance to connect with the resident IWC group.
All are welcome to attend this workshop but spaces are limited so register for a space here.