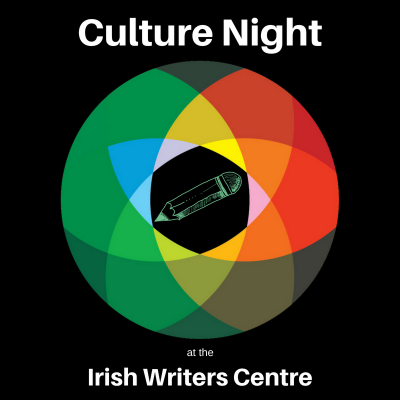 Culture Night 2019 at the Irish Writers Centre | Oíche Chultúir ag an ÁSÉ 2019
Info
Date:
September 20, 2019
Date: 20 September 2019
Time: 6.00pm – 9.30pm
The Irish Writers Centre opens its doors with the usual warm welcome to visitors for a celebration of Irish writing. You'll hear work from some new young voices in Irish literature while the brave among you can join our in-house writing group, the Inkslingers, where you can create and share your own original work. There will be a tour of our home at 19 Parnell Square where you can explore one of the great collections of contemporary Irish art, curated by the late Frank Buckley and you can wander in at your leisure to the Holy Show's Rambling House.
Frank Buckley Collection Tour (6pm – 6.45pm)
The Irish Writers Centre houses the exquisite and diverse art collection of the late Frank Buckley. Former Dublin City Arts Officer and former chairman of the Irish Writers Centre Jack Gilligan will lead a tour of the collection exploring some of the highlights of contemporary Irish Art including Patrick Scott, Mainie Jellett and Graham Knuttel.
Free event. Book at Eventbrite.
Inkslingers Workshops (6.30pm – 8pm)
Join our in-house writing group, the Inkslingers to flex your own creative writing muscles. Respond to visual cues, try your hand at poetry or fiction and find out what goes on behind the doors of one of Dublin's busiest writing groups. Booking not required, just drop in!
Young Writer Delegates Showcase (6.15pm – 7.15pm)
Hear readings from some of our ambitious young writers aged 18-26 who have attended and contributed to Cúirt, Dublin Book Festival, and International Literature Festival as IWC Young Writer Delegates.
Including Cassia Gilmartin, Alex Irwin, Aoife Riach, James Hudson, Jess McKinney and Ruth Ennis. Drop in, booking not essential.
Holy Show's Rambling House  (7.30pm – 9.30pm)
This Holy Showcase brings together a rotating panel of writers, artists and practitioners from diverse backgrounds for conversation, performances, song as well as some short readings from Issue 01 of Holy Show, a new magazine of Irish life, arts and culture. Look forward to readings from Roisín Kiberd, Ian Maleney, Caelainn Hogan, Robbie Brennan, Nina Farag and more!
The night revives the old tradition of the Rambling House – where neighbours of a community went 'night-visiting' to enjoy an evening's home-spun entertainment. Wander in and out at your leisure.