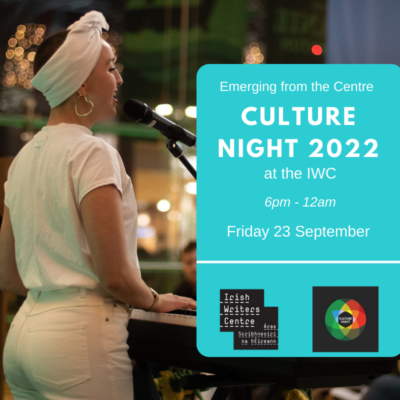 Culture Night 2022 – Emerging from the Centre
This Culture Night, Friday 23rd September 2022, we're opening our doors for a range of events, taking place from six pm to midnight in our Parnell Square building. Events on the night include readings from previous Young Writer Delegates, UpLift & Foundation Writers, a writing workshop with Insklingers, music from The Snug Set and Leila Jane, as well as a Bilingual Takin' the Mic.
---
6.15 - Emerging from the Centre
Emerging from the Centre is a lively and joyful series of readings from previous Young Writer Delegates, as well as participants of our Uplift and Foundation initiatives; initiatives designed for writers, young and older, from all communities, to hone their craft and advance their literary careers.
The session will also feature music and song  from Leila Jane.
---
6.15 - Inkslingers Writing Group
The Inkslingers Writing Group have been meeting every Saturday at the Irish Writers Centre for several years to discuss their work and find inspiration to create new work. Join them for a free session to whet your own writerly skills.
---
9pm - Bilingual Takin' the Mic
Culture Night 2022 at the Irish Writers Centre will also feature one of its popular bilingual Takin' the Mic sessions. Hosted by MC Sasha de Buyl, with special guest Colm Mac Gearailt, audiences can expect an evening of poetry, prose and music in English and Irish.
Tá Takin' the Mic ar ais go Áras Scríbhneoirí na hÉireann le hghaidh sár-oíche filíochta, focal labhartha agus grinn i mBéarla agus i nGaeilge. In éineacht le an MC Sasha de Buyl, beidh aoi speisialta Colm Mac Gearailt, chomh maith le 'mic-oscailte' le haghaidh scríbhneoirí, filí agus ceoltóirí. Fáilte roimh chách!
The session will also feature music and song  from The Snug Set, featuring featuring Ken Lynam (Uilleann pipes), Caitriona Ni Mhurchu (Flute & Concertina), Dani Fox (Fiddle), Brendan Devereux (Guitar).
Register to perform or attend Takin' the Mic.
---
About the Irish Writers Centre
As the leading support and development organisation for writers since 1991, the Irish Writers Centre carries out its work, online and in person, on an all island basis. We work with writers of all types and talents, and actively encourage writers from all communities to engage in creative writing. We provide many ways and means for them to develop their skill, advance their ambitions and join a vibrant and diverse community of people who share their passion and purpose.
We are also a membership organisation, always seeking new opportunities for members to
grow as writers and to connect with each other through IWC programmes and supports.
---
About Culture Night
Culture Night / Oíche Chultúir is a national moment, celebrating all that makes up the richness and diversity of Culture in Ireland today, connecting people to cultural activities locally and nationally and aims to open up pathways to ongoing engagement.
An annual, all-island public event which takes place each year on the third Friday of September, Culture Night / Oíche Chultúir celebrates culture, creativity and the arts and seeks to actively promote the belief that this rich and varied culture is alive, treasured and nurtured in people's lives, today and every day.
Special and unique events and workshops are specifically programmed at participating locations and, thanks to the continued support of the Arts Council and local Authorities across the island of Ireland, all activities are made available to the public free of charge.
---